THE PERCY DOUBLE FEATURE
TWO COMPLETE FILMS ON ONE EXTENDED DISC
THE ADVENTURES OF A YOUNG MAN
WITH THE FIRST PENIS TRANSPLANT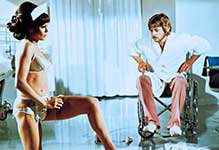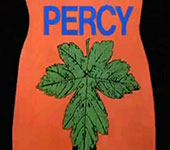 FILM ONE
PERCY (1971) [103 MINUTES] FULL SCREEN
directed by: Ralph Thomas
starring: Hywel Bennett · Elke Sommer · Adrienne Posta · Denholm Elliott · Britt Ekland
FILM TWO
PERCY'S PROGRESS (1974) [97 MINUTES] WIDE SCREEN
also known as IT'S NOT THE SIZE THAT COUNTS
directed by: Ralph Thomas
starring: Leigh Lawson · Elke Sommer · Judy Geeson · Denholm Elliott · Vincent Price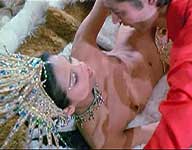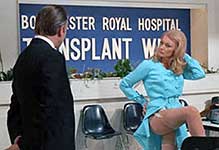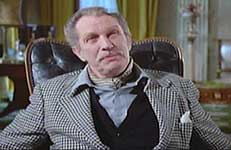 For the first movie, Edwin Anthony (played by Hywel Bennett from TWISTED NERVE) looses his penis in a tragic accident which also kills a young playboy. A doctor successfully replaces Edwin's dick with the one belonging to the dead man. However, Edwin is never told of the donor's womanizing ways or how proficient the substitute penis had been. So, driven by an unnatural, lusty zest, Edwin begins a search that takes him to the philanderer's wife and many, many girlfriends.
In the second film, Edwin's name is changed to "Percy" [Percy was the name of the penis in the original] and Hywel Bennett - refusing to return for the lead role in the sequel - is replaced by Leigh Lawson. For this one, Percy Edwin is determined to break his addiction to sex so he escapes to a remote island for a life of celibacy. Meanwhile, a catastrophe with the world's water supply has rendered the entire male population impotent... that is, everyone but Percy. Now he must return to England and save the human race.
Leigh Lawson was not known for big screen productions. Rather, he starred in a significant number of television shows [some sources list as many as 75]. He was probably better known for being the husband of supermodel Twiggy. In a quirky twist of fate, he fathered a child with Haley Mills in 1978. She had starred in TWISTED NERVE with Hywel Bennett and now - a few years later - Hywel is replaced by Leigh in this sequel.
Of particular interest, the music is written by Ray Davies and performed by the Kinks.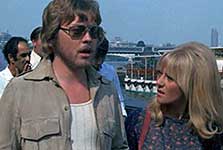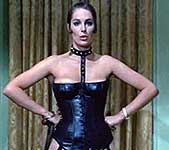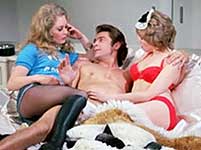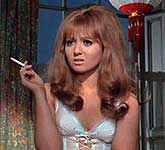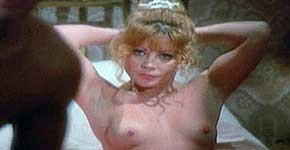 Two complete British films on one extended DVD, English language; (200 minutes total),
in DVD format, encoded for ALL REGION, playable on any American DVD machine.
Extras include both PERCY original theatrical trailers.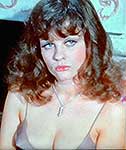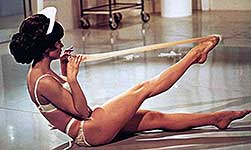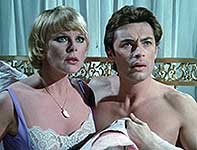 Nudity/Sexual Situations
For Adult Audiences