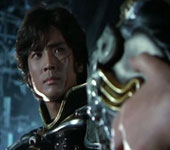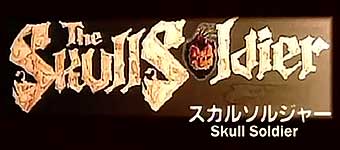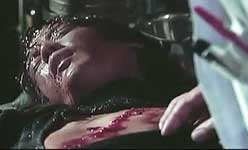 original Japanese title HEISHI ZUGAIKOTSU [Skull Soldier]

directed by Masaki Kyomoto and Keita Amamiya
starring: Masaki Kyomoto · Kenji Ushio · Sakaya Umezu · Julie Hamada · Hiroyuki Nakado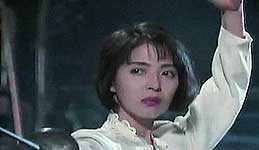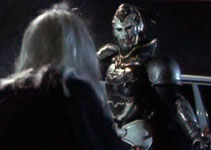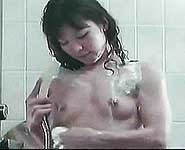 Narumi is a morose superhero on a vengeance mission against the person [or people] who killed his sister. He had been a cop, but quit the force to dedicate time tracking down Julie's murderer. His investigation leads him to Gokurikyu Laboratories, a clandestine research facility owned by industrialist Hakuga Genko. There, Narumi learns that his sister, a gymnast, had been killed - along with other athletes - in an unethical DNA experiment that uses extracted hormones [called "S" or "Skull"] to create a super-race of soldiers with increased speed, endurance and strength. However, once he attains this knowledge, Narumi is tossed into a chemical vat [containing the remains of those victims] and left for dead. He does manage to crawl from the waste, but he's a changed man. Narumi is now infected with extreme measures of the S-Hormone and - besides needing constant DNA injections for survival - he is ready to become the Skull Soldier and is dedicated to destroying everyone involved in the project.
Director and lead actor Masaki Kyomoto was obviously influenced by Tim Burton's nourishBatman (1989) and has taken the superhero motif into an even more adult stratosphere. With an abundance of nudity and unflinching nihilism, his SKULL SOLDIER emerges as a unique venture into the genre. Masaki was a pop singer from Osaka who broke into the movies with the epic Kinji Fukasaku/Sonny Chiba film LEGEND OF THE EIGHT SAMURAI in 1983. He continued to star in movies (as the memorable villain Kurando Sekine in SUKEBAN DEKA 2) and television (Kamen Rider series) before writing, directing and starring in this film. Since that time, Masaki has concentrated mostly on TV, riding helm on fifteen different projects including Ultraman Tiga.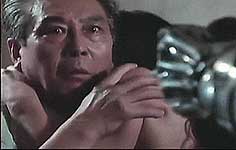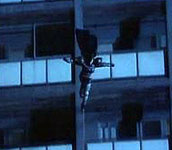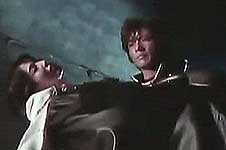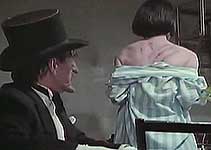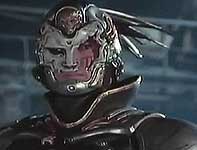 A Japanese film with English subtitles; 90 minutes, widescreen
in DVD format, encoded for ALL REGION, playable on any American DVD machine.
Extras include selected theatrical trailers.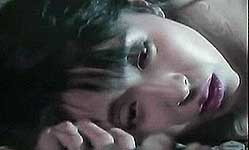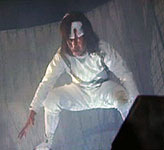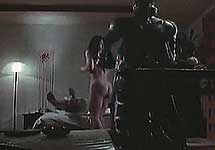 Graphic Violence/Nudity/Sexual Situations
Recommended for Mature Audiences