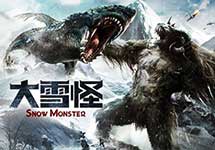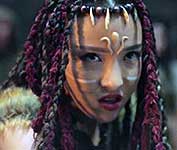 original Chinese title DA XUE GUAI [Giant Snow Creature]

directed by Huang He
starring: Tim Wu · Shi Jun-Zhe · Du Yu-Ming · Zun Zhi-Ying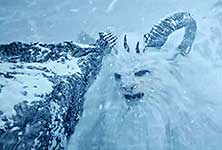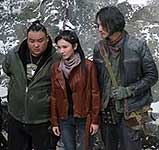 The movie may be a rip of Peter Jackson's King Kong... but it's got a ridiculously HUGE yeti snow-creature, a tribe of fairies, bad military guys, monster birds, a hippie Indiana Jones trying to rescue his ex-girlfriend, snow sharks [yes, snow sharks], and a dinosaur skeleton [inexplicably freestanding in the tundra]. The film opens in the year 2045. It's the fifth day of research in an icy mountainous region, with Commander Xiao Quin (actress Zhang Yongxian) leading the expedition. During a blinding snowstorm, they unfortunately park their van directly on top of a giant Yeti [probably in the 500-600 feet range] taking a nap. As it begins to stand, the vehicle is knocked about and all communication with the base is lost. Authorities contact Ren Yi Fei, a retired explorer [and former boyfriend of Commander Xiao], to helm a search party.
Unlike the events in the aforementioned King Kong, there is no attempt to capture the Snow Monster for a return to civilization. Rather, the bad guys want to kill it and drain its hybrid DNA. However, there is an unlikely attraction between the monster and the Queen of the Fairy People. And while this mammoth Yeti does not fight any dinosaurs, he does tangle with a bunch of Snow Sharks before the closing credits.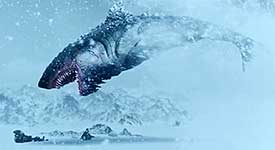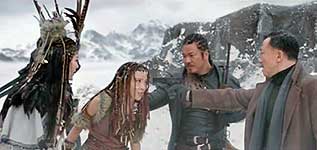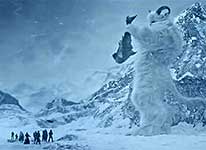 A Chinese film with English subtitles; 83 minutes, widescreen
in DVD format, encoded for ALL REGION, playable on any American DVD machine.
Extras include selected Chinese monster trailers.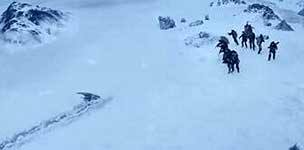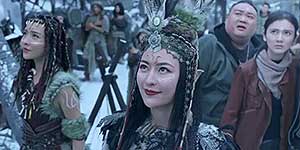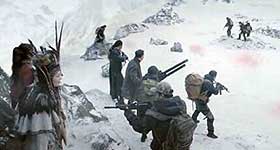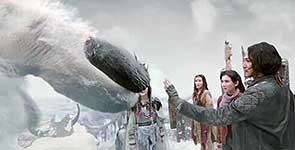 Violence/Sexual Situations
Recommended for Mature Audiences