Fully Uncut International Version (92 Minutes)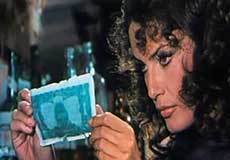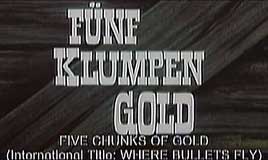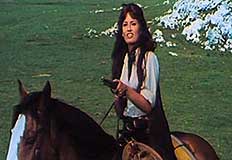 original International title WHERE THE BULLETS FLY
Italian title: TUTTI FRATELLI NEL WEST PER PARTE DI PADRE[All The Brothers of the West Support Their Father]
original German Title: FUNI KLUMPEN GOLD [Five Chunks of Gold or Five Lumps of Gold]
American title: MISS DYNAMITE [edited]

director: Sergio Grieco
starring: Marisa Mell · Antonio Sabato · Peter Cartsten · Brigitte Skay · Lionel Stander · Fernando Sancho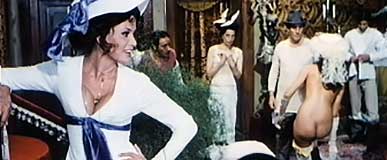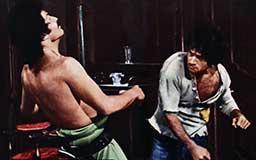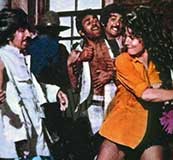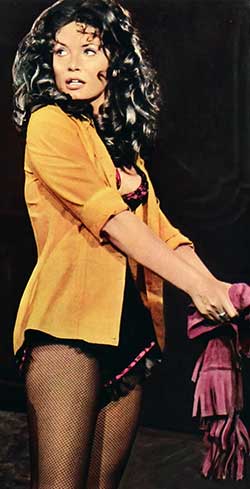 A drifter named Jeep wanders into a wild west town, seemingly to avenge the death of his brother at the hands of a paid gunslinger. However, his plans quickly go astray when he enters the Little Paradise brothel and meets Lucille Belle - owner, singer, whore - harboring a secret about a local gold mine. She finds herself in danger from a rowdy outlaw gang [and its boss, Carsen] when they attempt to steal her portion of a treasure map partially inscribed on chunks of gold. Lucille recruits Jeep as her bodyguard and partner.
    Director Sergio Grieco makes his intentions clear during the credits with an on-screen notice Una Parodia Western All'italiana [An Italian Western Parody] before the title even appears. Obviously the emphasis should therefore be on humor. But too often the gags overshoot the setup and simply don't work. In addition, the film is loaded with a suspicious amount of rather brutal segments and adult material resulting an overall mixed impression.
   Sergio Grieco helmed 40+ movies between 1950-77, hitting his stride after '64 when - under the Terence Hathaway alias - he became Italy's sought-after director of Spy Actioners (best known for 007 MISSION BLOODY MARY and FANTASTIC ARGOMAN). He also took time for nunsploitation [SINFUL NUNS OF SAINT VALENTINE] and, of course, a Western. Mr Grieco died from a heart attack at age 65 in March 1982, shortly after completing BEASTS WITH MACHINE GUNS.
   This film BELONGS to Marisa Mell. She owns every scene as brothel madame Lucille Belle [even singing the title song 'Where The Bullets Fly' on the saloon stage]. Marisa made 75+ movies between 1960-90 (including THE CHAINED, PERVERSION STORY, VIOLENT BLOOD BATH, RING OF DARKNESS, et al) but she initially became an "overnight sensation" in 1968 after playing Eva Kant in Mario Bava's DANGER DIABOLIK. For most of her career, Ms Mell was dangerously addicted to cocaine, resulting in severe health problems. She died from throat cancer at the early age of 53 in May 1992.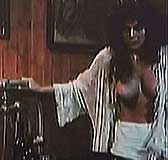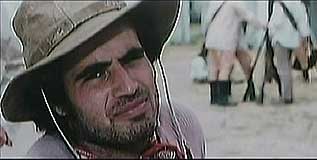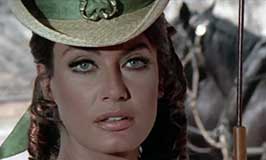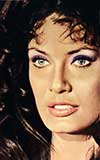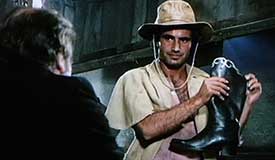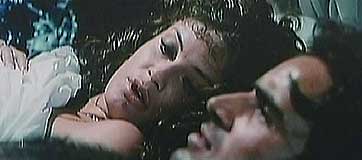 An Italian Film in English language with additional German scenes [English subtitles];
widescreen format, uncut (92 min.), in DVD format, encoded for ALL REGIONS,
playable on any American DVD machine. Extras include selected trailers.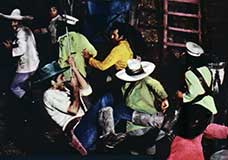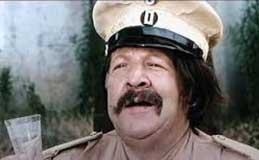 Violence/Nudity/Prostitution/Sexual Brutality
Recommended For Mature Audiences