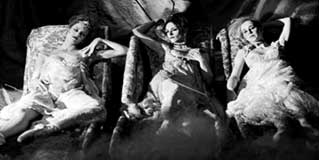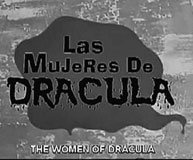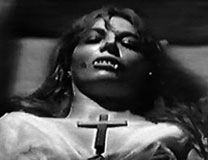 original Mexican/Spanish title LAS MUJERES DE DRACULA [The Women of Dracula]
Also known as: EL IMPERIA DE DRACULA [The Empire of Dracula]

director: Federico Curiel             written by Ramon Obon Jr
starring: Eric Del Castillo · Lucha Villa · Cesar Del Campo · Ethel Carrillo · Robin Joyce · Gigi Monet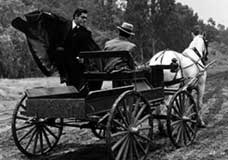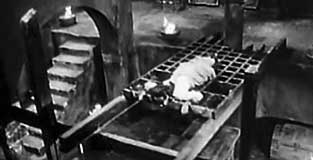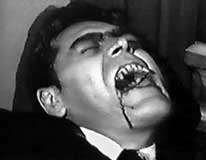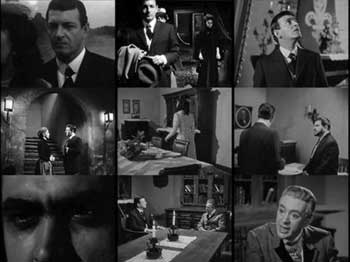 The credits claim this movie is based on the novel by Abraham [Bram] Stoker, with screenplay by popular Mexican writer Ramon Obon (LA LOBA). But the plot is basically a remake of the Hammer film Dracula: Prince of Darkness (1966), with a few differences. The travelers trapped in Dracula's castle are not two married couples, but rather a man and 3 women [providing more feminine necks for the vampire count, who - for some reason - is called "Baron Draculstein" here].

The story is quite simple. After a fight to the 'death,' Dracula is revived to live again; he soon terrorizes and captures a group of people visiting the mansion. His resurrection scene is kinkier than other vampire flicks from that time. A busty woman is suspended above the vampire's open coffin. Assistant Igor stabs her between those impressive tits, allowing blood to cascade down onto the Baron's corpse, thus bringing him back to life.

Director Federico Curiel was a studio workhorse, making almost a hundred movies between his first NEUTRON in 1960 and his last, Bohemios De Aficion [Bohemian Hobby] in 1984. He is best known for LAS VAMPIRAS (starring John Carradine and Mil Mascaras), numerous Blue Demon films [including HELLISH SPIDERS] and SANTO IN THE VENGEANCE OF THE FEMALE VAMPIRES. Mr Curiel would die from a stroke in June 1985 at age 68.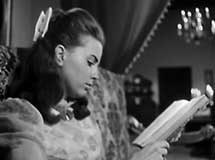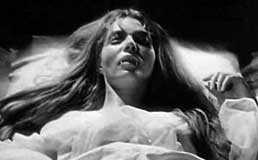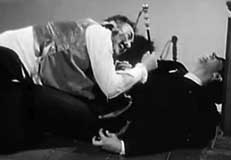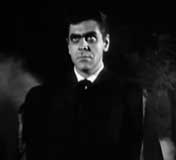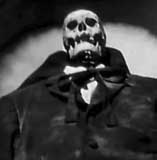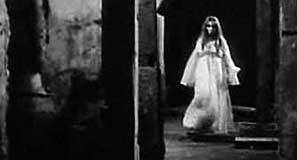 A Mexican/Spanish Film with optional ON/OFF English subtitles; black and white widescreen format,
uncut (85 min.), in DVD format, encoded for ALL REGIONS, playable on any American DVD machine.
Extras include selected theatrical trailers.
SemiNudity/Graphic Violence/Sexual Brutality
Recommended For Mature Audiences