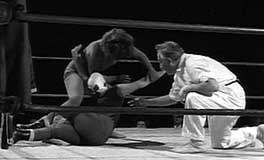 ††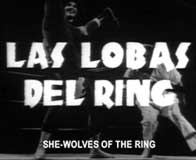 ††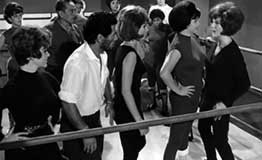 original Mexican/Spanish title LAS LOBAS DEL RING [She-Wolves of the Ring]

director: Rene Cardona
starring: Lorena Velazquez ∑ Elizabeth Campbell ∑ Maria Eugenia Sanmartin ∑ Sonia Infante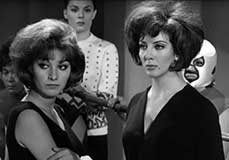 ††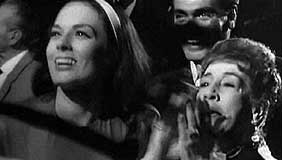 ††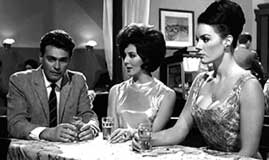 A female wrestling tournament pits Loreta Venus (Lorena Vazquez), Golden Rubi (Elizabeth Campbell) and their fellow luchadoras against a team of unscrupulous woman wrestlers [and their gangster cohorts] who will stop at nothing - including kidnapping and murder - to win the huge cash prize.
Lorena Velazquez and Elizabeth Campbell teamed together for previous luchadorah films (including WRESTLING WOMEN VS THE AZTEC MUMMY) even though neither were real wrestlers [unlike counterpart superheroes Santo, Mil Mascaras, Blue Demon, etc]. Before those movies, Lorena had already made a name for herself in cult hits like SHIP OF MONSTERS and SANTO VS THE VAMPIRE WOMEN. On the other hand, Elizabeth - a 20 year old Los Angeles native - had gone to Mexico in 1962 to star in a fluff music pic called Ritmo de Twist (Rhythm of the Twist); she ended up staying there to star in a TV series Sonrisas Colgate (Colgate Smiles) before getting recruited for the Wrestling Women series. The two women played the same characters - Loreta Venus and Golden Rubi - for each of the luchadorah films. This movie was the only one without monsters, concentrating more on wrestling and gangsters. After this project, Velazquez left the franchise. Campbell would keep her character going for one more film, PANTHER WOMEN. They would work together again in the SciFi actioner PLANET OF THE FEMALE INVADERS. In the late 60s, Ms Campbell announced a return to the States but she completely dropped out of sight. Ms Velazquez continues acting in Mexico today; after more than 100 films, she headlines a television series La Mexicana y el GŁero (The Mexican and the Harlot).
Director Rene Cardona was the godfather of Mexican exploitation, best known for BAT WOMAN and HORRIPILANTE BESTA HUMANA (Night of the Bloody Ape) among many more.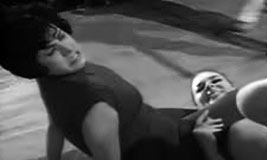 †††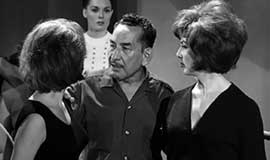 †††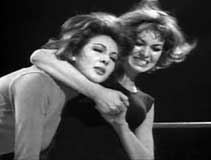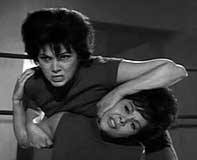 †††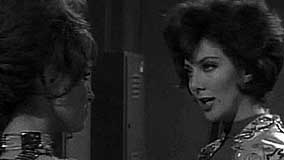 ††††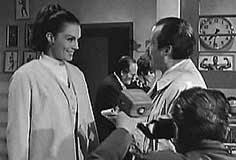 A Mexican/Spanish film with optional English subtitles, fully uncut 82 min,
widescreen (small logo in upper right corner) encoded for ALL REGION,
playable on any American DVD machine. Extras include original theatrical trailer.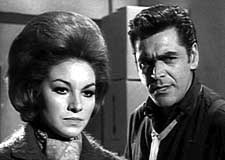 ††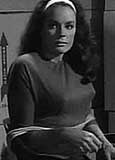 ††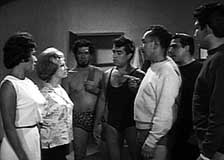 Violence/Sexual Brutality
Intended for Mature Audiences