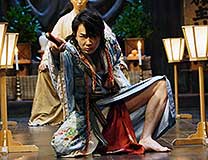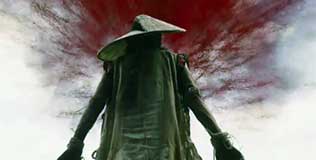 original Japanese title PANKU-ZAMURAI, KIRARETE SORO [Punk Samurai Karate Slam]

director: Sogo Ishii (Gakuryű Ishii)
starring: Gô Ayano · Keiko Kitagawa · Tadanobu Asano · Masahiro Higashide · Masatoshi Nagase · Jun Murakami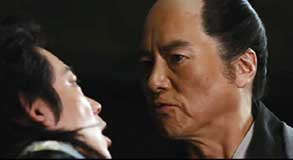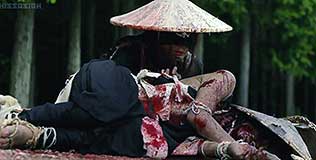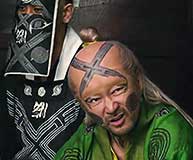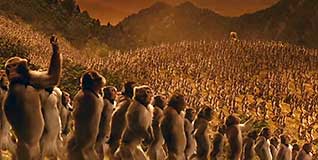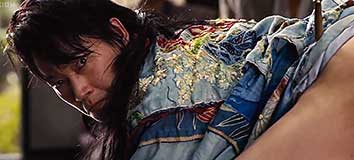 Ko Machida's 2004 novel Panku Zamurai Kirarete Soro was a huge Japanese bestseller. In the years that followed many cult filmmakers [including Takashi Ishii] attached themselves to the project. However, most everybody finally concluded that it would be impossible to make. But Sogo Ishii - Japan's original punk icon (BURST CITY, ELECTRIC DRAGON 80,000 V, DEAD END RUN, et al) - would not let go. He was like a dog with a slab of raw meat, making the 'impossible' happen.
On the obvious level, the story revolves around ronin Junoshin Kake (Gou Ayano), a wandering samurai who wants to become part of the Kurokaze clan. To do this, he fabricates a series of lies that should make him appear more valuable to leader Lord Kuroae. However, as his lies start to unravel, Junoshin soon finds himself in a dangerous position wedged between two rival factions within the clan. But this is only the foundation for an epic fantasy which involves warring monkey tribes, drug-induced showdowns, and the insanely dangerous antics of the Belly Shaking Cult. As the movie slips deeper and deeper into sheer chaos, it becomes even more surreal [complicated by a more intense smart-yet-maddening mixture of modern slang and the diachronic language of the samurai era]. But Ishii's eye-popping visuals - aided by Yoshiyuki Matsumoto's exquisite cinematography - propel this movie into a vibrant dimension seldom achieved in the confines of live-action movie making. This is a masterpiece of wonder and awe.
Gakuryű Ishii (now known as Sogo Ishii) was born January 1958 in Hakata, Japan. He is a film director and writer, often credited for introducing the Cyberpunk Wave to Japanese Cinema. He also evolved into a major award-winning filmmaker with the release of motion pictures like LABYRINTH OF DREAMS and ANGEL DUST.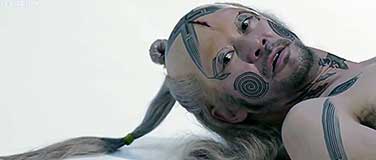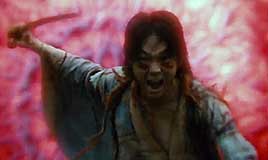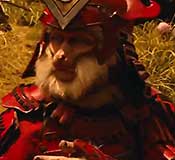 A Japanese film with optional English subtitles, uncut 130 min, widescreen,
encoded for ALL REGION, playable on any American DVD machine.
Extras include the original Japanese theatrical trailer.