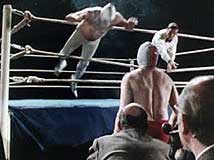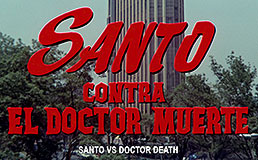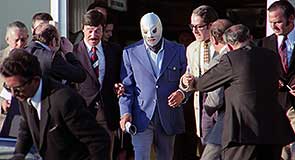 original Spanish title
SANTO CONTRA DOCTOR MUERTE
[Santo vs Doctor Death]
director: Rafael R Marchent
starring: Santo · Carlos Romero Marchent · Helga Liné · Mirta Miller · Maribel Hidalgo · George Rigaud · Frank Braña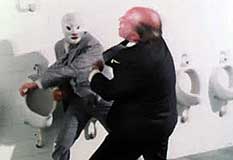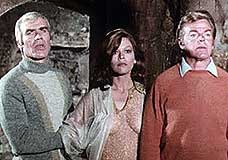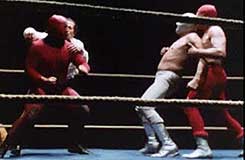 Here is the only non-Mexican Santo movie [unless you count the Turkish 3 DEV ADAM, which includes the Santo character but NOT the real Santo]. This is a project shot in Spain by genre director Rafael Romero Marchent (STUDENT CONNECTION), with a completely European cast [plus Argentinean starlet Mirta Miller who has a surprising wardrobe malfunction at the 70 minute mark, see pic below, center]. Santo himself also called it his best film.
The story - obviously inspired by the James Bond films of the time - finds Santo as a suave, special agent for Interpol. Yes, he's still a wrestler but that's more of a 'cover story' for his real mission [sorta like Mil Mascaras's character in ENIGMA OF DEATH]. Here, Santo is heading incognito to Barcelona for a World Cup Wrestling Match but he's actually investigating the mysterious Doctor Mann, suspected of a major art theft in that city. Santo infiltrates Dr. Mann's castle in Spain to discover the facts behind heist, involving kidnapped women in bizarre scientific experiments.
The female cast is particularly impressive, headed by German-born Helga Liné (from 100+ genre films, including LORELEI'S GRASP, VAMPIRE NIGHT ORGY and STUDENTS OF MADAM OLGA) as villainess Sara. The aforementioned Mirta Miller (best known for numerous Paul Naschy films including DR JEKYLL AND THE WOLFMAN and COUNT DRACULA'S GREAT LOVE) plays female spy Sarah. And then there's gorgeous Maribel Hidalgo [from Jess Franco's NIGHT OF THE SKULL] as blonde model Ester.
A Spanish film with optional English subtitles, uncut 96 min, widescreen,
encoded for ALL REGION, playable on any American DVD machine.
Extras include selected trailers.