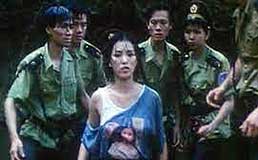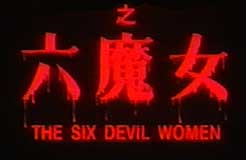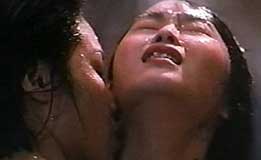 original Hong Kong/Chinese title
SHEN ZHEN GONG LU QIANG CHE JIE SHA: LIU MO NV
[Robbery on the Road: I am a Witch]
director: Tin Yiu Ma (as Tommy Ma)
starring: Diana Pang · Wong Shu-Kei · Yuen Man Leung · Keung Chan · Ching Kwok Leung · Sau Han Chung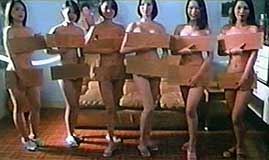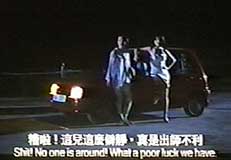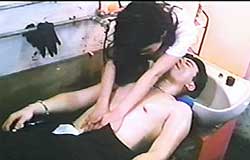 The city of Shenzen - located on the central coast of Guangdong (China), bordering south of Hong Kong - is an expansive megalopolis of approximately 20 million people. It was established to be "an experimental ground for the practice of market capitalism guided by the ideals of socialism with Chinese characteristics." Essentially, the Beijing government has endorsed a lenient 'hands off' attitude towards Shenzen, even as things dramatically changed in the neighboring Hong Kong since the 1997 Chinese takeover.
As a result, Shenzen is often called the "California of China," a land of enterprising young people and the neo-wealthy. This is the backdrop for a story of ten men and six women who engage in a get-rich-scheme by stealing cars. The young women pretend to be stranded along the road where they hitch a ride that delivers unsuspecting victims to fellow gang members. The cars are stolen and sold to wealthy entrepreneurs in Shenzen. Diana Pang plays con-artist Man Nap, the young woman in charge of her Devil Girls. She finds trouble when they decide to expand their part of the operation to sex crimes.
This was an early project for 20 year old Diana Pang - followed by HONG KONG SHOW GIRLS and THE IMP - made at a time when the HK Media gave her the nickname "Shénmì de Rufáng" (Mystical Breasts). Today, her CAT III MOVIES are nothing but a distant memory. She is now a renowned actress and dancer in Mainland China, a prominent member of the All-China Politician Federation, a China Zhi Gong Party Central Sports Committee Member, and Honored Chairman of the China Health Assist-Poverty Association.
A HK/Chinese film with Chinese & English subtitles, uncut 89 min, widescreen,
encoded for ALL REGION, playable on any American DVD machine.
Extras include selected trailers.