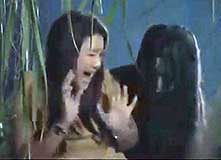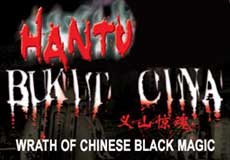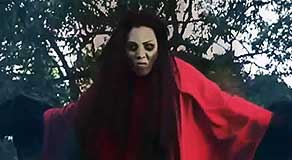 original Malaysian title
HANTU BUKIT CINA
[Ghost of Chinese Black Magic]
director: T S Jeffry and Norliza Ismail
starring: Fouziah Gous · Gambit Saifullah · Fazyurina · T S Jeffry · Jovinia Jusmin · Yank Kasim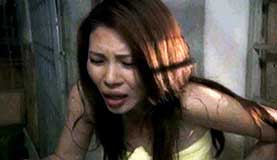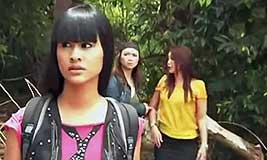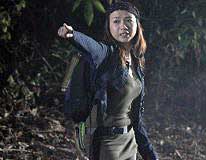 In the prologue, villagers warn a young husband that his wife is cheating on him... "Right now!" He rushes home to find his wife - sure enough - doing the nasty with her boyfriend in the middle of the afternoon. After angry words ["You only married me to get your citizenship!"], he discovers the closet with her black magic shrine. Losing control, the spurned husband stabs his Chinese immigrant wife multiple times, killing her. But despite efforts by the village priest, the woman returns from the grave as a flying banshee [see pic, below left]. Fast forward, through the credit sequence, to the main plot: three teenagers [Jo, Luna and Sandra] missed the bus that was supposed to take them to their cultural dance seminar. In order to make it on time, the girls hitch a ride with Kent and Zack, two boys on their way to an afternoon of fishing. But very soon their ride breaks down and they find themselves in an area that the locals call "cursed." No one is safe.
This is one of numerous recent hit horror films from Malaysia, spurred by the success of HISTERIA (2008) and KHURAFAT [Mysticism] (2011).
A Malaysian film with English subtitles, uncut 80 min, widescreen,
encoded for ALL REGION, playable on any American DVD machine.
Extras include selected trailers.