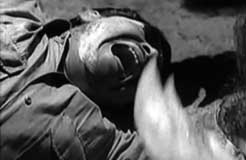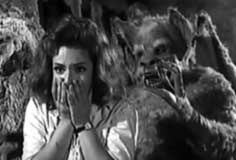 original Mexican/Spanish title: AVENTURA AL CENTRO DE LSA TIERRA

director: Alfredo B. Crevenna
starring: Kitty De Hoyos · Javier Solis · Columbia Dominguez · Jose Elias Moreno · David Reynoso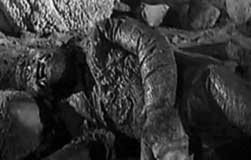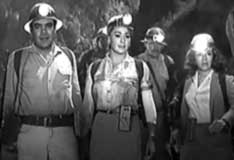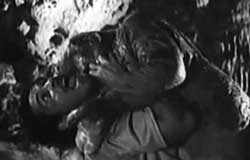 A group of explorers head deep into an unexplored portion of a cavern after a young man is brutally killed [and his girlfriend driven mad] during a routine tour. Professor Diaz is the leader; Kitty De Hoyos plays his assistant Hilda Ramirez, but she is treated more like his secretary. The film does scream for a dose of feminism (all the women are inexplicably dressed in skirts for the excursion) and it also flounders in a weird racism (the one black man is the only nameless cast member and is constantly made to "return to camp with the women" when danger threatens [see pic below, right] ). But, the movie is never boring as it offers a wide selection of monsters and mayhem, including a cyclops, giant spiders and a vampire-bat-man who becomes uncontrollably smitten with Hilda, resulting in a deadly kidnapping.
Alfredo B. Crevenna was a German filmmaker who escaped Hitler's Germany in 1938. He attempted to get work in Hollywood but couldn't secure a visa, so he migrated to Mexico where he enjoyed a prolific 50 year career. Mr Crevenna helmed over 150 films, mostly lucha libre and horror, which include PLANET OF FEMALE INVADERS, SANTO VS BLACK MAGIC, SANTO AND BLUE DEMON VS THE BEAST OF TERROR, GIGANTES PLANETARIOS and THE WHIP AGAINST SATAN. He died in August 1996 from cancer, at age 82.
Kitty de Hoyos was a popular actress who starred in 60+ films between 1952-81, including two genre classics SHE-WOLF and THE CROWS ARE MOURNING. Miss de Hoyos would pass away from cancer in 1969, at 62.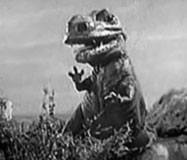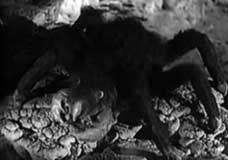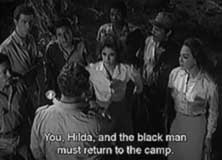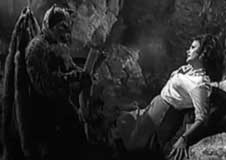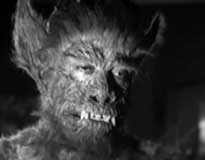 A Mexican/Spanish film, with English subtitles; fullscreen format, uncut 79 minutes,
DVD encoded for ALL REGION NTSC WORLD FORMAT. Extras include theatrical trailers.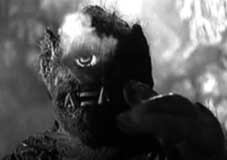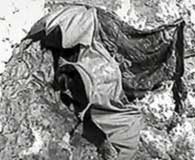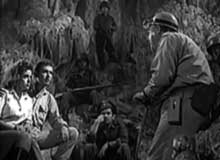 Violence/Animal Cruelty/Sexual Brutality
Intended For Mature Audiences