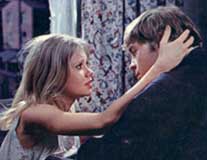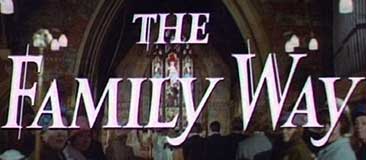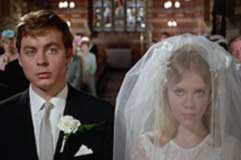 director: The Boutling Brothers [Roy and John Boutling]
starring: Hayley Mills · Hywel Bennett · John Mills · Marjorie Rhodes · Barry Foster · Murray Head
music by Paul McCartney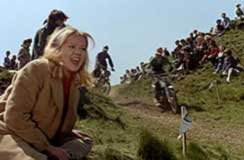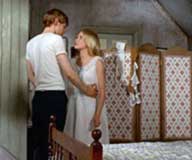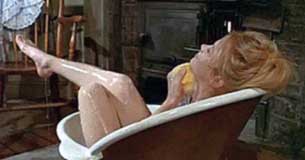 Ahead of its time, this film by Roy Boulting is another British project spawned by the Swinging Sixties, this time telling the story of a young married couple who run into trouble with the sexual side of marriage. It's based on the award-winning play by Bill Naughton All In Good Time, finding huge success in the UK and Europe upon release in 1966 [but rejected by theater-goers in the USA, seemingly as a protest against the 'maturing' of former-Disney star Hayley Mills]. She plays Jenny, a young virgin who marries Arthur Fitton, but the couple finds stress and embarrassment when they seem incapable of having sex. Besides flaunting taboo subject matter, the film also shocked audiences with a Hayley Mills nude scene.
Music fans [Beatle fans] take note: the score for this movie is written and composed by Paul McCartney, with assistance from his producer George Martin [see pic below, right], making it the first solo project by any of the Beatles. This caused much controversy at the time as many people thought it signaled the 'beginning of the end' for the Fab Four. In a VERY interesting side note, according to the credit sequence, the assistant sound director is Pete Best [the original Beatle who was replaced by Ringo Starr four years prior].
Haley Mills, the former Disney 'child' actress (The Parent Trap, That Darn Cat, et al) and pop singer (Let's Get Together), used this movie and the subsequent TWISTED NERVE [both directed by Roy Boulting] to break from her bubblegum Pollyanna image. In addition, shortly after making these two movies, Hayley became director Boulting's mistress while he filed for divorce, eventually marrying him despite their 33 year age difference. She was the subject of the British gossip pages for years to follow.
A British film, in English language; fullscreen format, uncut 105 minutes,
DVD encoded for ALL REGION NTSC WORLD FORMAT.
Extras include original theatrical trailer plus music video for "Let's Get Together"