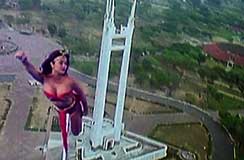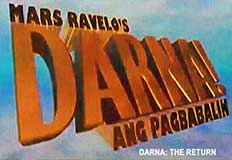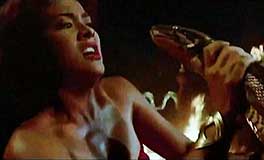 original Filipino title DARNA ANG PAGBABALIN [Darna: the Return]

director: Peque Gallaga and Lore Reyes
starring: Anjanette Abayari · Rustom Padilla · Cherie Gil · Edu Manzano · Pilita Corrales · Bong Alvarez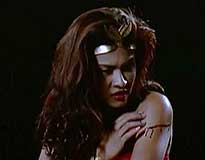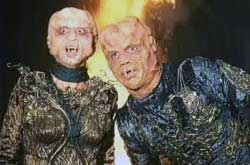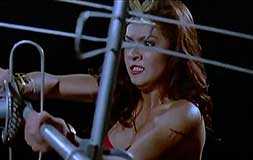 Filipino Illustrator Mars Ravelo created Darna in the early fifties. The character leaped from the comix world into a string of motion pictures and numerous TV series in the Philippines (despite numerous unsuccessful Wonder Woman infringement lawsuits from DC Comics generated in the United States). The most popular Darna was played by Vilma Santos in the '70s [see DARNA VS THE PLANERT WOMEN for details]. When it came time for a motion picture re-boot in the '90s, Viva Studios chose Oakland Raiders cheerleader [and beauty queen] Anjanette Abayari, obviously the actress most accomplished at fleshing-out the Darna outfit.
For this story, an eruption of a major volcano has brought chaos and devastation to the Philippines. Darna's [snake-haired] arch-enemy Valentina is trying to take control of the island through subliminal messages in the broadcast of her religious TV shows. Of course, Darna wants to stop the evil bitch, but she has her own problems... she's lost her magic pearl and no longer has the power to transform into her scantily-clad super-self. So, now trapped inside the body of Narda [her alter ego], she must find the pearl, become Darna and foil Valentina's plans. Will she be successful? Damn right she will.
A Filipino movie with English subtitles; widescreen format, uncut 104 minutes,
DVD encoded for ALL REGION NTSC WORLD FORMAT.
Extras include original theatrical trailer.