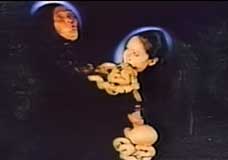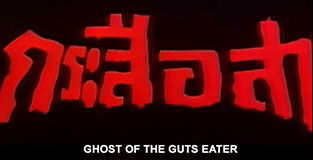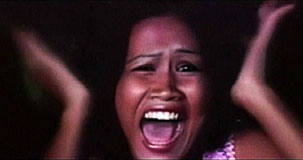 original Thailand title KRASUE SAO [Star Krasue] [Star Guts Eating Ghost]

director: S. Naowaratch
starring: Sombat Metanee · Pitsamai Wilaisak · Metta Roongrat · Chumporn Theppitak · Sulaleewan Suwanatat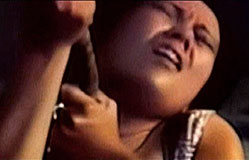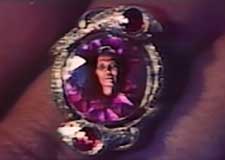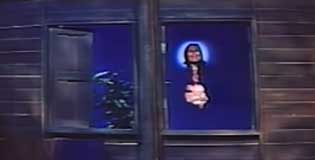 In a rural Thai village, a young man named Monaud marries beautiful Bua Klee. But she is infected with a curse (instigated by a ring) from her deceased grandmother. This strange affliction causes her to become a Krasue [severed-head, gut-eating ghost] by night, flying through the countryside looking for fresh blood and newborn babies. After an unsuccessful attempt to exorcise Bua Klee, the two flee to another village. But they have not escaped the curse. Their life becomes even more complicated when another young woman falls in love with Monaud and captures his heart with black magic.

This ultra-obscure film from Thai producer Banlue Utsahajitr is considered the first to feature a traditional SouthEastern Asia'Krasue' ghost [i.e., also called Penanggalon, a flying severed head with intestines and organs attached]. The movie benefits from a rustic atmosphere and earnest performances but the FX are sorely dated [by today's standards]. There are three different Krasues in this film, plus a zombie and an [unnecessary] giant. The leading actors, Sombat Methanee and diva Pitsamai Wilaisak, were considered the "dream couple" at the time. Other Krasue movies followed; the best known are MYSTICS IN BALI and WITCH WITH THE FLYING HEAD.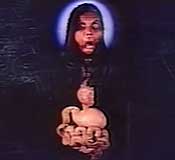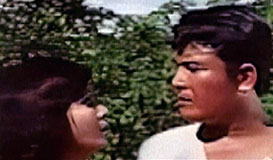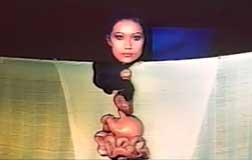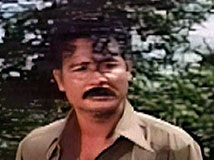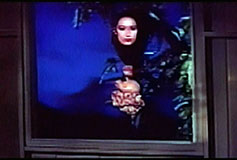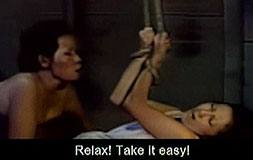 A Thai film with optional English subtitles; uncut 104 minutes,
on a DVD encoded for ALL REGION NTSC WORLD FORMAT.
Extras include selected theatrical trailers.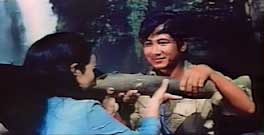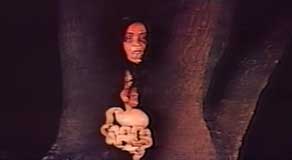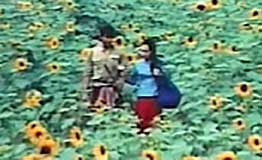 Violence/SemiNudity/Sexual Brutality
for Mature Audiences