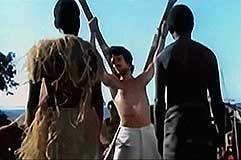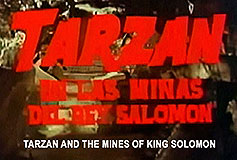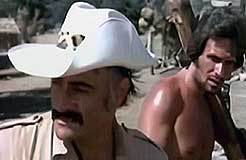 original Spanish title: Tarzán en las Minas del Rey Salomón [Tarzan in the Mines of King Solomon]

director: Jose Luis Merino
starring: David Carpenter ˇ Paul Naschy ˇ Nadiuska ˇ Sergio Alberti ˇ Alioe Parsons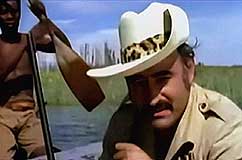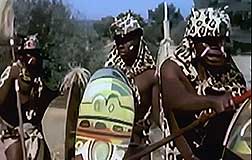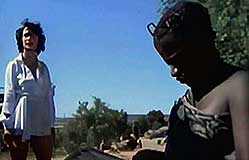 Doris (Nadiuska) is looking for her brother after his plane crashes in the African wilderness. She's escorted by a nasty guide named Stanley (villainous Paul Naschy), a man secretly smuggling weapons through the jungle. The black market trafficking causes the wrath of Tarzan and inadvertently turns the natives against him.

One of numerous "unofficial" Spanish-produced Tarzan films made in the '70s (also see Richard Yesteron's TARZAN AND THE SECRET OF THE JUNGLE, plus the two Steve Hawkes projects TARZAN'S GREATEST CHALLENGE and TARZAN AND THE TREASURE OF EMERALD CAVE, et al). But this one had something the other ones didn't have: Paul Naschy (he would also star in a similar jungle movie, KILMA: VIRGIN OF THE JUNGLE, a few years later).
David Carpenter, born Domingo Codesido Ascanio, never found success in motion pictures. After a handful of co-starring movies, he would retire from the Industry in the late '70s to become a lifeguard in Spain. Eventually David moved to Thailand where he died from mysterious (and undisclosed) causes in 2006 at age 55.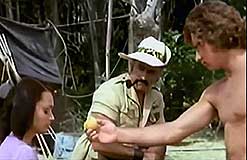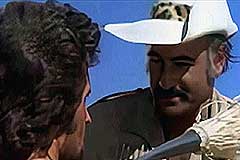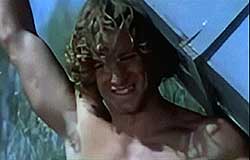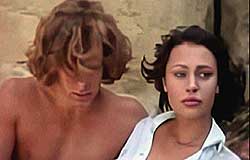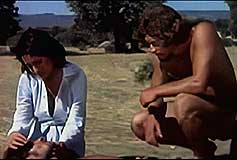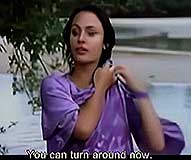 A Spanish film with optional English subtitles; fullscreen format, 88 minutes,
DVD encoded for ALL REGION NTSC WORLD FORMAT. Extras include theatrical trailers.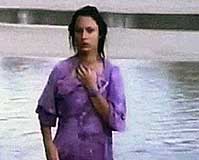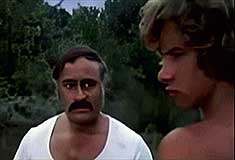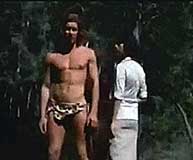 Sexual Themes/Violence/Sexual Brutality
for Mature Audiences