5 Story Omnibus from
Thailand's Greatest Horror Filmmakers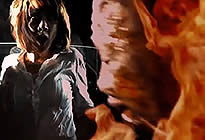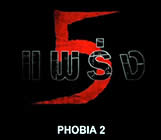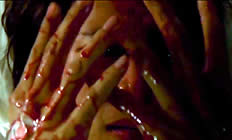 Original Thai Title: PHOBIA 2: 5 PRANG [Phobia 2: 5 Visions]

directors: Vanridee Pongsittisak · Nitis Napichayasutin · Paween Purikitpanya
Songyos Sugmakanan · Parkpoon Wongpoom
starring: Nicole Theriault · Dan Worrawech · Charlie Trairat · Jirayu La-Ongmanee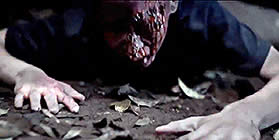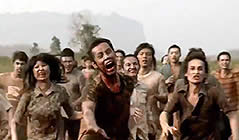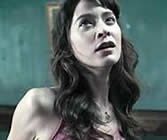 This blockbuster graphic opus is a sequel to Paween Purikitpanya's first PHOBIA (known as 4BIA). Like the original, it is a collection of different horror films by Thailand's top filmmakers.
In the first story - Vanridee [SHUTTER] Ponsittisak's The Novice - a teenager [who causes his father's death through a misguided prank] is forced to live with a group of Buddhist monks in a remote temple controlled by the Hungry Ghost.
For the second tale - Nitis [NANG NAK] Napichayasutin's The Ward - a young man, suffering from a severe leg accident, is moved from surgery to a shared hospital room with an old man in a coma. But there's something shockingly bizarre about this roommate.
Paween [THE BODY] Purikitpanya's segment Backpackers finds a young Japanese couple who hitchhike a ride from two rednecks in a truck. The trouble starts with a loud banging sound from inside the trailer and escalates into shockingly good zombie mayhem.
In Songyos [THE DORM] Sugmakanan's fourth story - Salvage - a used car dealer shockingly discovers what the auto's previous owners had been [horrifically] doing in the car.
For the final installment - In The End  by Parkpoom Wongpoom [co-director of SHUTTER] - an over-worked actress accepts a role in a horror movie but dies during the shoot.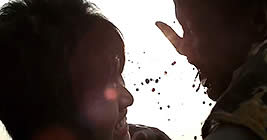 A Thai production with good English subtitles;
widescreen format, uncut 121 minutes, encoded for ALL REGION NTSC,
playable on any American machine. Extras include theatrical trailer.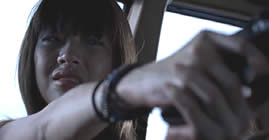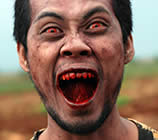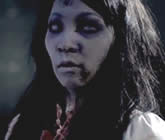 Graphic Violence/Gore/Sexual Situations/Drugs
for Mature Audiences