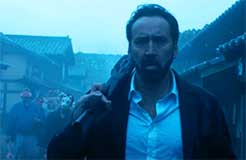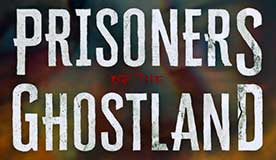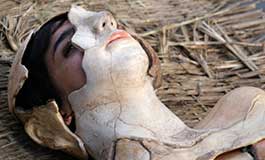 director: Sion Sono
starring: Nicolas Cage · Sofia Boutella · Nick Cassavetes · Bill Moseley · Tak Sakaguchi · Cici Zhou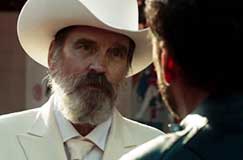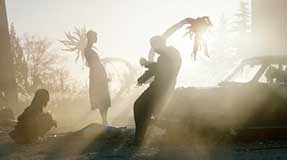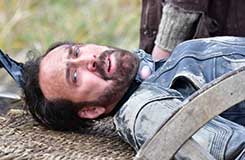 Welcome to Samurai Town, a surreal outpost in the Japanese wastelands, comprised mostly of geisha-whores and masquerading ruffians. The town is under iron-fist control of the Governor [perhaps Bill Moseley's best role ever]. In the beginning of the film, Hero (Nicolas Cage) and his partner Psycho rob a bank, killing most everybody inside [including a child offering them a gumball], before getting arrested. Meanwhile, the Governor's niece Bernice [by the way, she's also his mistress] has fled the town and escaped into the wilderness. The Governor summons prisoner Hero and orders him to find the girl. He is fitted in a leather suit with sensor-bombs attached to his arms, neck and genitals, wired to ignite if he tries to to remove it. Hero has five days to find Bernice and bring her back to the Governor, or he will die.
Director Sion Sono has made an impressive number of quality motion pictures and TV productions, 60+ since 2000. He is probably best known for SUICIDE CIRCLE (which is notorious for the multiple deaths of high school girls) and recent extraordinary projects like VIRGIN PSYCHICS and WHY DON'T YOU PLAY IN HELL?