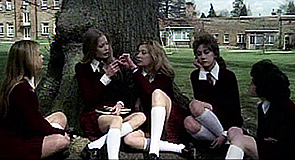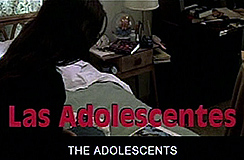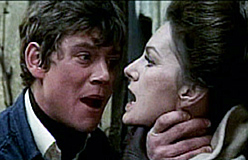 original Spanish title: LAS ADOLESCENTES [The Adolescents]
also known as THE TEENAGERS

director: Pedro Maso
starring: Koo Stark · Susan Player · Anthony Andrews · Cristina Galbo · Eduardo Fajardo · Jack Taylor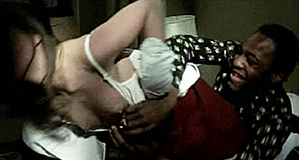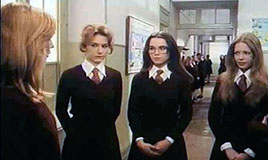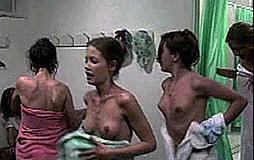 In this cautionary coming-of-age film, an innocent girl named Ana (Koo Stark) attends a prestigious English boarding school. After adjustment [and initiation hazing], she accompanies two of the more brazen classmates to London where they get mixed up with some men who specialize in blackmarket porn. It's all rather unsavory exploitation, punctuated by racism [the lead rapist is a black man known as the Jamaican, see pic above left]. But the colorful scenes of mod Swinging England are remarkable, as well as stellar performances from Susan Player (from Sergio Martino's FIRST COUSINS) and Koo Stark [in her debut].
This film (and subsequent productions EMILY and JUSTINE: CRUEL PASSION) received much notoriety in the British gossip press because Koo Stark was engaged to Prince Andrew. He was publicly indignant, condemning the films and asking for them to be banned. Instead, the relationship came to an end and Koo Stark missed the opportunity to become the Duchess of York.
Note: Despite being shot in the UK, this is a Spanish film with English subtitles.