ONCE UPON A TIME IN A REMOTE PLACE IN AMERICA,
WHERE SLAVERY HAD BEEN ABOLISHED....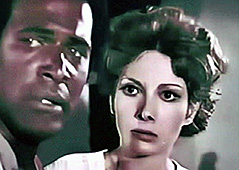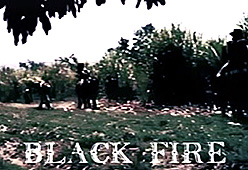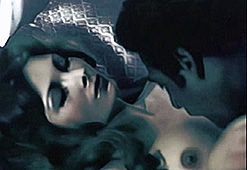 original Mexican title: FUEGO NEGRO [Black Fire]

director: Raul Fernandez
starring: Roland Ferlini ˇ Yvonne de Carlo ˇ Susana Kamini ˇ Aurora Clavel ˇ Cesar Imbert ˇ Delroy White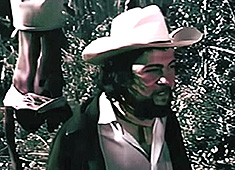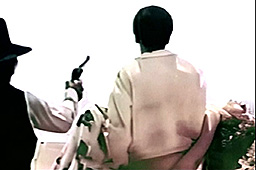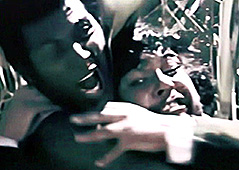 Long considered a LOST film, here is a MegaRare English language print that survived the Grindhouse circuit [suffers from careless treatment and heat exposure, resulting in some color loss; please note actual screen shots on this page].
Manuel is a rebellious slave who gets whipped by the overseer after rescuing a black girl from a rape. However he is rescued from the beating by Gabrielle Jones, the daughter of the plantation owner. As Gabby nurses Manuel back to health, they fall in love. Meanwhile, the slaves learn that back in Washington, the government has signed papers guaranteeing their freedom. They react by storming the plantation on a murderous rampage. Manuel saves Gabby from the massacre and they take refuge in a remote shack. But the white survivors are now retaliating with a killing spree of their own.
Cesar Imbert (real name Julio César Imbert), playing the rebel Manuel here, is a Mexican actor of black heritage. He is only one of a handful of black performers in the movie. Seemingly, due to a shortage of actual black actors available in Mexico, most of the plantation slaves are played by darker skin Latinos. And - in some uncomfortable cases - they are Mexican actors in blackface [see pic below left, Aurora Clavel is the plantation house nanny; elsewhere she has been an Indian in Soldier Blue and a Mexican whore in The Wild Bunch].
Oldtimers will also recognize the name of Yvonne de Carlo [see pic below right]. Yes, this is the same actress who was part of the Hollywood elite in the '40s, starring in most of the Bing Crosby/Bob Hope Road pictures. She has a cameo in this film as Catherine Jones, wife of the plantation owner.
Just prior to this movie, filmmaker Raul Fernandez directed Troy Donahue's notorious ULTRAJE! (RAPE!).