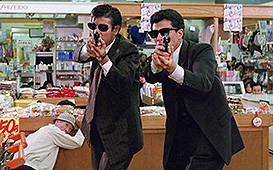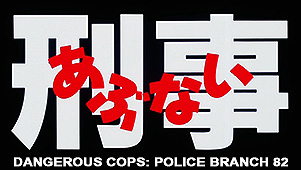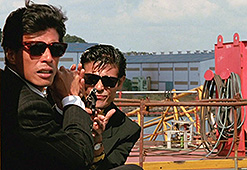 original Japanese title: ABUNAI DEKA KEISATSUSHO 82 [Dangerous Cops: Police Branch 82]

director: Yasuharu Hasebe
starring: Hirishi Tachi · Kyohei Shibata · Atsuko Asano · Shizuo Chujo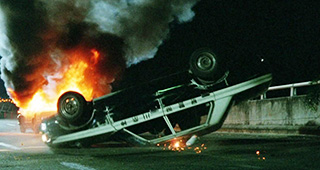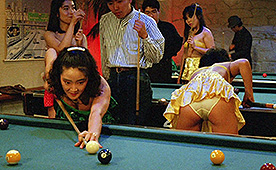 Some critics have written "Abunai Deka was inspired by the International success of Lethal Weapon, also released in 1987." However, it should be noted: even though the two movies were released in the same year, this Japanese film was a big screen version of a hit TV series that began two years prior.
Here is filmmaker Yasuhau Hasebe's pop art masterpiece set in the glitzy-yet-lurid city of Yokohama, the eye-popping Babylon just south of Tokyo. The movie includes [mostly] the same cast as the television series. Cop buddies Yuji Oshita (Kyohei Shibata) and Toshiki Takayama (Hiroshi Tachi) are front and center as the eccentric partners. They are the very definition of COOL, with their slick hair, classy suits, sunglasses and - of course - naughty personalities. This New Wave police actioner gave birth to many more copycats (including Chusei Sone's SUPER GUN LADY: BRANCH 82) as well as seven official sequels [ending with Saraba Abunai Deka (Farwell Dangerous Cops) in 2016] all starring the Shibata/Tachi team.
The plot isn't really that important [two cops search for the killer of a doctor], rather this film relies on the central theme. Two self-obsessed, anti-establishment (yet charming) detectives step into one thrill sequence after another as they try to solve their assigned case.
Director Hasebe was one of the kingpins of Japanese exploitation, responsible for thirty decades of films, from entries in the SCORPION (SASSORI) series, to gangster films (BLOODY TERRITORIES), to THE NAKED SEVEN. He made his notorious 'rape' films in 1976/78 (ASSAULT! JACK THE RIPPER, RAPE!, RAPE 13th HOUR, et al]. An exclusive interview with Mr Hasebe can be found in Asian Cult Cinema magazine #25. This cinematic titan passed away in June of 2009; he was 77.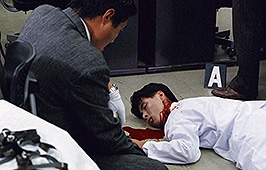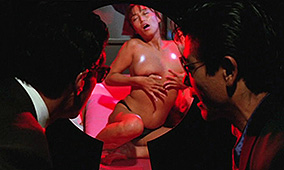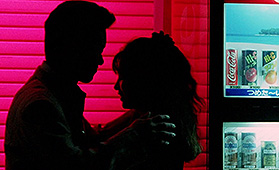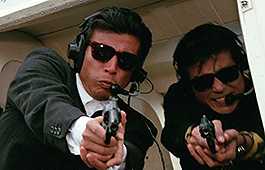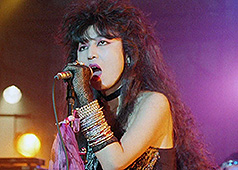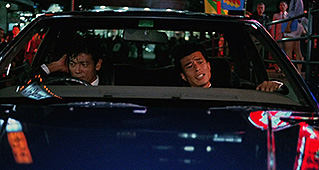 An Argentinean film, with optional ON/OFF English subtitles; 80 min, widescreen,
DVD encoded for ALL REGION NTSC WORLD FORMAT; extras include selected trailers.