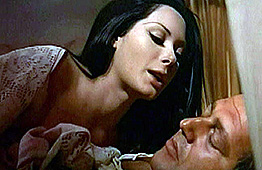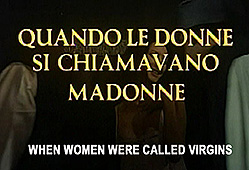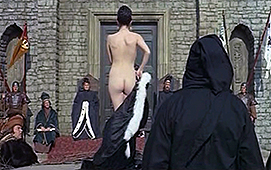 original Italian title QUANDO LE DONNE SI CHIAMAVANO MADONNE
[When Women Were Called Virgins]

director: Aldo Grimaldi
starring: Edwige Fenech · Vittorio Caprioli · Don Backy · Stefania Careddu · Antonia Brancati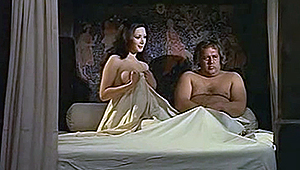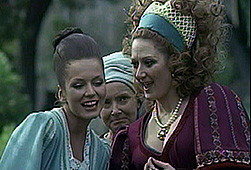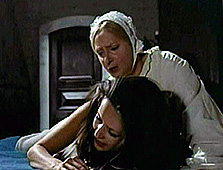 Circa: Middle Ages, Italy. Three young travelers - Gisippo, Ruberto and Tazio - arrive in the village of Prato where a large crowd has gathered in the townsquare because a trial is about to start. It could result in the 'burning of a witch.' Giulia Varrone (Edwige Fenech) is accused of adultery, caught in the act with her lover Marcuzio by jealous husband Romildo. The young people decide to stay in Prato and enjoy the show. The condemned woman declares innocence, claiming that she totally fulfills her conjugal duties, while her husband does not. His selfishness under the covers leaves her unsatisfied and frustrated, but lover Marcuzio satisfies her completely. The judge asks Giulia to provide proof of what she's saying by having sex with both men in front of everyone. The trial sparks a randiness in much of the audience, including the three young men who begin their own seduction attempts.
Edwige Fenech (born Edwige Sfenek in France) began acting in German sex comedies (e.g., CRAVINGS OF THREE INSATIABLE GIRLS, LET IT ALL HANG OUT, et al) and an occasional thriller (TOP SENSATION) before meeting and dating Italian producer Luciano Martino. He introduced her to his brother,
director Sergio Martino, and she became the cornerstone of Sergio's STRANGE VICE OF MRS WARDH and
ALL THE COLORS OF THE DARK. Edwige would go on to work with most of the Euro genre directors from
Lucio Fulci (SISTER-IN-LAW) to Andrea Bianchi (STRIP NUDE FOR YOUR KILLER) to Ruggero Deodato
(PHANTOM OF DEATH). She is still active in Italian television today.
Director Aldo Grimaldi, son of filmmaker Giovanni Grimaldi, made only a handful of movies, mostly sex comedies, including MY LOVERS (Amanti Miei), before his death from an auto accident - at age 48 -
in August 1990.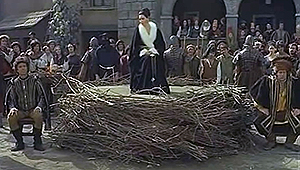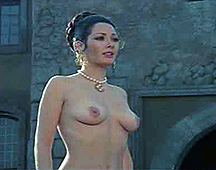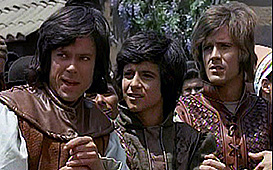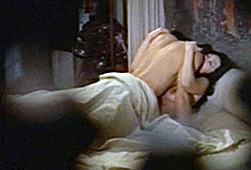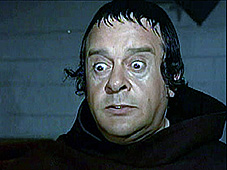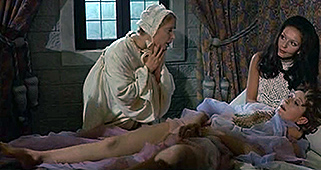 An Italian film with optional English subtitles; uncut 88 minutes,
on a DVD encoded for ALL REGION NTSC WORLD FORMAT.
Extras include Edwige Fenech theatrical trailers.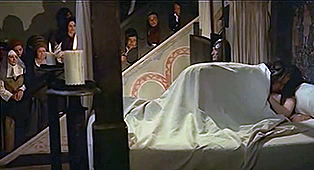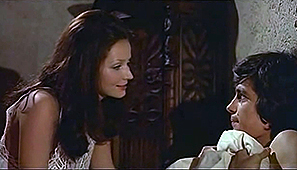 Nudity/Sexual Situations
Recommended for Mature Audiences