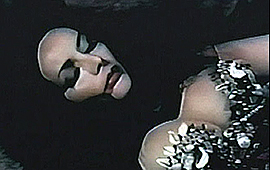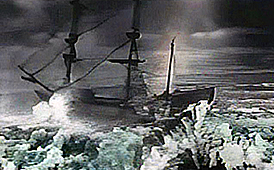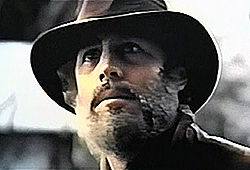 original English title THE JUNGLE VIRGIN
Spanish title LA DIOSA VIRGIN (Virgin Goddess)

director: Dirk De Villiers
starring: Isabel Sarli · Armando Bo · Victor Bo · Ken Gampu · James Ryan · Dirk De Villiers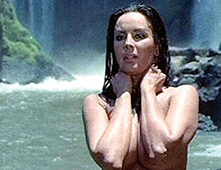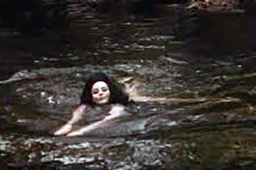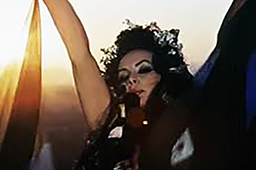 By 1974, Argentinean sex queen Isabel Sarli had already appeared in 22 motion pictures [including Trueno Entire Las Jojas (Thunder Between the Leaves, 1957), a film containing the first Internationally distributed nude scene]. In the late '60s/early '70s, Ms Sarli was also enjoying a string of massive blockbuster movies beginning with CARNE (Flesh) in 1968, continuing through FUEGO (Fire), TROPICAL ECSTACY, FIEBRE (Fever), and FURIA SEXUAL. Her worldwide popularity had finally caught the attention of Hollywood. Columbia Pictures bankrolled Isabel Sarli's only English language movie. But in typical Tinseltown fashion, they managed to royally fuck it up.
Even though ALL of Isabel's previous motion pictures had been written and directed by her common-law husband Armando Bo (arguably, they most important ingredient to her success?), Columbia thought it best to put somebody else in charge. Those duties went to South African arthouse director Dirk De Villiers who also produced and co-starred. However, Isabel refused to work unless the studio also hired her collaborator Armando [eventually brought aboard as 'co-producer' and 'guest star']. The movie also stars his son Victor Bo as Sarli's usual romantic interest and future action hero [Kill And Kill Again] James Ryan, unrecognizable in shoulder-length hair. The resulting production so horrified the Columbia executives that it was deemed
unreleasable and immediately stuck in their vault where it remains today. An Argentinean version with English subtitles was circulated briefly in South America [seemingly the source of this rare print] but has since disappeared. Isabel Sarli (with Armando and Victor Bo) would rebound from this disaster with EMBRUJADA (Bewitched) a few months later in early 1975.
This film tells the story of a woman who survives a shipwreck off the African coast in the late 15th century. She is rescued by a tribe suffering from a long drought, but her arrival coincides with much needed rain. This White Queen is soon hailed as the Rain Goddess by the local witch doctor and worshipped accordingly [with lots of dancing, naked black people]. The crafty leader wants to have sex with Isabel but she refuses his advances. In retaliation, he conjures a spell of 'immortality and never-fading beauty,' providing she forever remains a virgin. However, if the goddess should ever lose her maidenhead, she and he will both die. Into this absurd premise comes a group of 20th century Europeans attempting to prove [or disprove] the Rain Goddess legend. One of these men becomes hopelessly infatuated when he sees Isabel swimming in the nude. He is determined to possess her completely.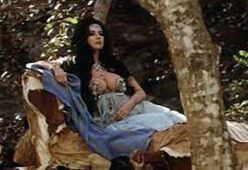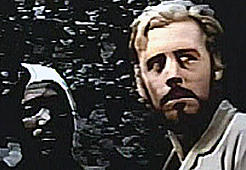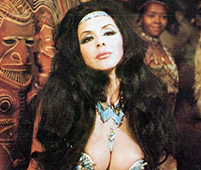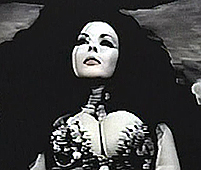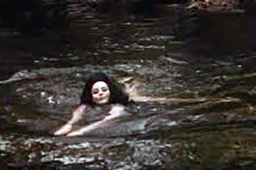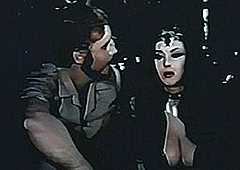 An American/South African/Argentinean film in English with Spanish subtitles; fullscreen format,
uncut 86 minutes, DVD Package encoded for ALL REGION NTSC FORMAT.
Limited Unofficial Edition. No extras.
Violence/Sexual Situations/Nudity/Drugs
Recommended for Mature Audiences