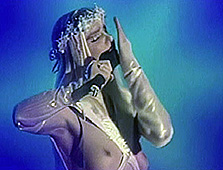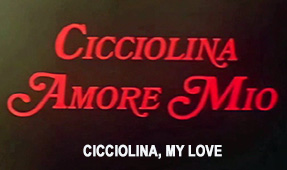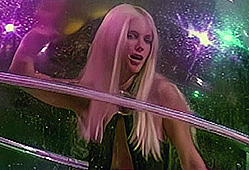 original Italian title CICCIOLINA AMORE MIO [Cicciolina My Love]

director: Brunoi Mattei and Amasi Damiani
starring Ilona Staller (as Cicciolina) · Patrizia Basso · Giancarlo Marinangeli · Tina Capecchi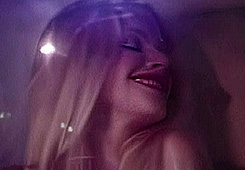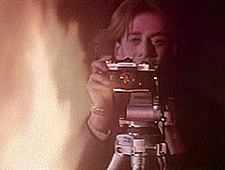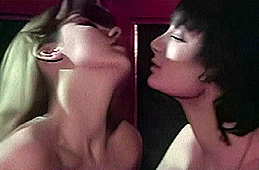 Ilona Staller (born Elena Anna Staller, 1951, Budapest, Hungary) moved to Rome Italy in 1970 where she began hosting a talk show Vuoi Dormire Con Me? (Do You Want To Sleep With Me?) on Radio Luna nightlybetween midnight and 3 AM. Her callers began addressing her as "Cuddles" [she later changed the word to 'Cicciolina' claiming it meant Teddybear]. During this period, Ms Staller would gain publicity by posing nude for the Italian magazine Playmen and appearing in numerous movies [5 WOMEN FOR THE KILLER, BESTIALITA, INHIBITION, et al] usually under the name Elena Mercury. Her co-starring role in Gloria Guida's HIGH SCHOOL FLIRTS [La Liceale] was Ilona' first major film hit, followed by YELLOW EMMANUELLE. This also led to various pop songs climbing the music charts. As all these activities added to the popularity of the Cicciolina radio show, she decided to combine all efforts into a singular promotion for her brand. With assistance from manager/publicist Riccardo Schicchi, she set her sites on making a feature film. Aspiring motion picture director Bruno Mattei [with years of experience as a film editor] was tapped to create a movie that would bring Cicciolina to the masses.
The film deals with a bigger-than-life Cicciolina and the fantasy world she creates through her nightly radio sex show. One of her listeners, Riccardino (played by Giancarlo Marinangeli), obsesses over the ethereal goddess and begins to envision her as part of his real life. Riccardino convinces Cicciolina to trust him as her new photographer, replacing the unimaginative Lorenzo. His eccentric photoshoots add a new dimension to Cicciolina's popularity, whisking the radio personality into the stratosphere of pop music and superstar status. Obviously, for this film, the plot isn't as important as the presentation [or as Canadian philosopher Marshall McLuhan famously wrote "The medium is the message"]. And Bruno Mattei, with his previous decade of pop culture influence and motion picture editing, was an inspired choice to direct this seventies pop-culture gem. He had recently helmed two mondo-styled, counterculture sex documentaries [EMANUELLE AND THE EROTIC NIGHTS with Laura Gemser and LIBIDOMANIA]; so, by combining the bright-n-bubbly image of Cicciolina with his stark cinematography, by punctuating the dazzling filter effects into a neon of colors (long before MTV existed), and by fusing the music of Gianni Marchetti into a perfect union with C's own array of hit songs, Bruno manages to create not only a perfect and accurate timecapsule of the '70 but also he also gave birth to the icon that became a symbol of the generation.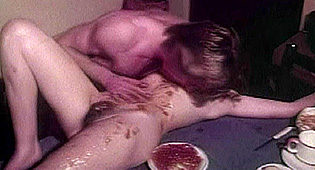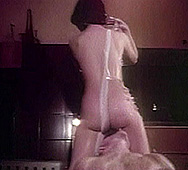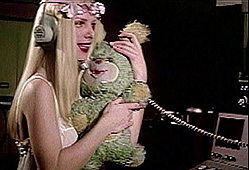 Cicciolina used her new mainstream popularity to organize her next move. She decided to enter Italian politics, forming the "Love Party" with actress Moana Pozzi (KILLING OF THE FLESH, EROTIC GAMES, et al). Their interest was decidedly non-political ("Cicciolina is the first Italian politician not qualified for the position" said an Italian editorial in 1986), their platform was a fight for legalization of brothels, love parks and better sex education. She won her election and served two terms as a congressman from 1987-92. Cicciolina continued making the occasional motion picture [starring in and directing the cockeyed softcore masterpiece DIVA FUTURA). While still in office, she jumped into hardcore XXX productions (i.e. Andrea Bianchi's PERVERSIONS OF THE ANGELS). In 1994, after an ugly divorce and unsuccessful custody battle with American actor Jeff Koons, she left Italy for Brazil starring in a daily TV soap-opera called Xica da Silva (230 episodes, 1996-98). After that series, she switched back to porn for numerous hardcore Brazilian productions.
Director Bruno Mattei would springboard from the success of this film into European cult film status. Often using pseudonyms (Vincent Dawn, Pierre Le Blanc, Stefan Obloiosky, etc) he directed 80+ films, dabbling in many genres, from horror (HELL OF THE LIVING DEAD) to nunsploitation (THE OTHER HELL), from naziploitation (WOMEN'S CAMP 119) to giallos (EYES WITHOUT A FACE), from Spaghetti Westerns (SCALPS) to sleaze (BELLE DA MORIRE). Mr Mattei died at age 75 from a brain tumor in May, 2007. His co-director here, Amasi Damiani, would make only a handful of films after this one. He is probably best known for CORPI NUDI, a hardcore production made in 1983 with Marisa Mell and Femi Benussi.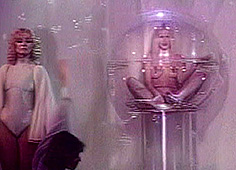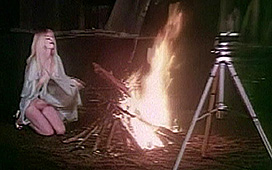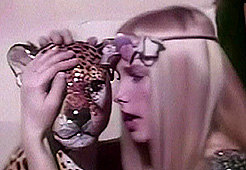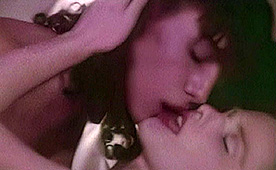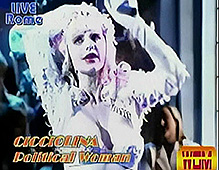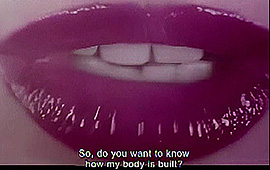 An Italian film with optional ON/OFF English subtitles; widescreen format,
uncut theatrical print 85 minutes, DVD Package encoded for ALL REGION NTSC FORMAT.
Extras include live version of Cicciolina's song Political Woman plus her trailers.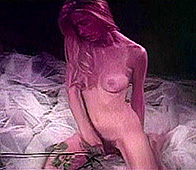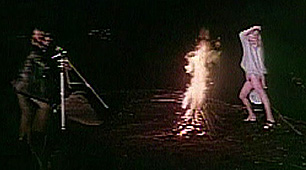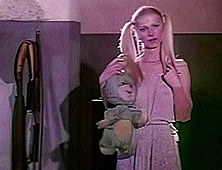 Nudity/Violence/Sexual Situations/Rape/Drugs
Recommended for Adult Audiences