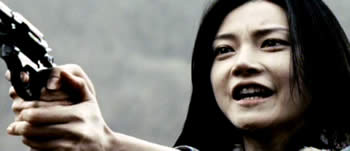 original Korean title Guta-yubalja-deul

director: Won Shin-Yeon
starring: Cha Ye-ryeun · Lee Moon-sik · Han Seok-gyu
Jeong Kyeong-ho · Kim Shi-hoo · Lee Byung-joon · Lee Mun-shik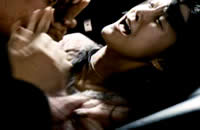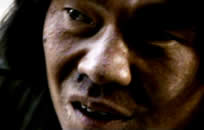 A contemporary DELIVERANCE with a Korean twist! A college professor escorts a female student to a musical audition in a rural community. On the return, this reckless womanizer attempts to rape the girl. She escapes his car, running into the woods to escape him. While awaiting her return, the professor is tormented by a group of cruel rednecks. Meanwhile, the girl is also captured and everything escalates into a frenzy of perversion.
This is a very odd film choice for Korean superstar Han Seok-Gyu (of SHIRI fame) -- essentially a supporting role as an brutal and vicious redneck sheriff -- in this grim and shocking production. It was an early film for Cha Ye-ryeon, made just after VOICE and before the Alien-esque monster movie SECTOR 7. Today, after heading the long-running TV series Gracious Revenge (Uahan Monyeo), 100+ episodes, she is one of Korean's most popular actresses.