Kurt Nachmann's Notorious Psychedelic Venture in Erotica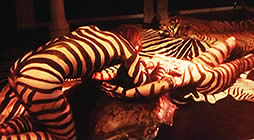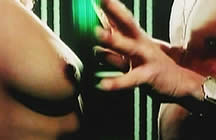 Original German Title: DIE NACKTE GRAFIN [The Naked Countess]
also known as LA MARQUISE DE SADE (French Title)

director: Kurt Nachmann
starring: Ursula Blauth · Wolfgang Lukschy · Kurt Nachmann · Renate Kasche · Gunther Mohner · Elke Hart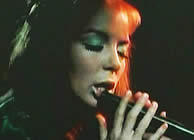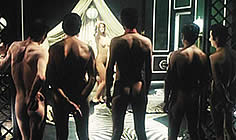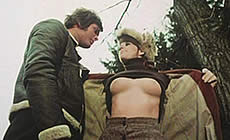 Police Commissioner Gabriel is investigating the mysterious death of a car mechanic found naked in the front seat of a crashed sportscar with a bullet hole in his head. The murder case takes him to the palatial estate of Count Anatol, the owner of the ruined car. There, Commissioner Gabriel talks to a housewife and butler who seem all-too-anxious to reveal the inner secrets of the Count's domain. Seemingly, after the death of his wife, Count Anatol married a "simple farm girl who had the reputation of being a good fuck" and now he enjoys making her available to his extended circle of friends... for a price, of course. This open marriage results in one kinky, sexual episode after another which eventually threatens to destroy the very foundation of the Count's lifestyle.
Kurt Nachmann's NAKED COUNTESS is an eye-popping German exploitation movie with loads of full-frontal nudity and lurid sexual decadence. While punctuated by elegance and psychedia, the story is unusually menacing. Ursual Blauth (e.g. Uschi Blauht) was a Dutch model who understood her role perfectly and had an amazing body to match. Despite the dark story, director Nachman brightened the production with colorful, vivid sets inspired by Hieronymus Bosch's Garden of Delights. Kurt Nachmann was better known as a scriptwriter (and novelist). He wrote 100+ films, often working with Hubert Frank (ANGEL AND THE BEASTS), and usually under the Joos De Ridder or Johannes Weiss pseudonyms. He directed only a handful of films. Mr Nachmann died in March 1984 at age 68.
It's rather astonishing how many genre movies were released with the NAKED adjective in the title. Here's a list that comes to mind immediately: NAKED CARMEN, NAKED BEAST, NAKED SEVEN, NAKED MAN, NAKED KILLER, NAKED MASSACRE, NAKED TANGO, NAKED POISON. There are many, many more.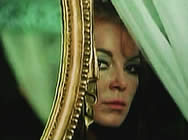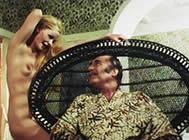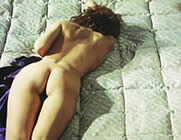 A German film with English subtitles; widescreen format (16:9), uncut version (85 minutes), DVD encoded for ALL REGION NTSC WORLD FORMAT. Extras include theatrical trailers.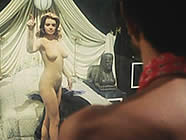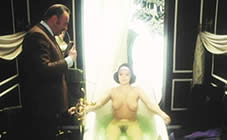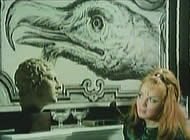 Strong Sexual Situations/Violence/Nudity/S&M/Sexual Brutality
for Mature Audiences Only