Ultra Rare Erika Blanc / Peter Lee Lawrence Thriller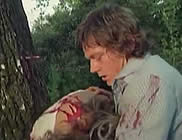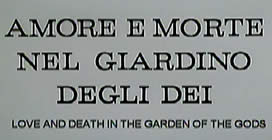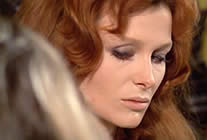 original Italian title: AMORE E MORTE NEL GIARDINO DEGLI DEI

director: Sauro Scavolini with Romano Scavolini
starring Erika Blanc ˇ Peter Lee Lawrence ˇ Orchidea de Santis ˇ Ezio Marano ˇ Rosario Borelli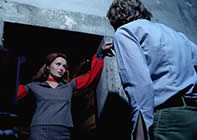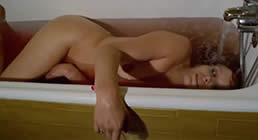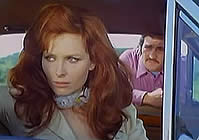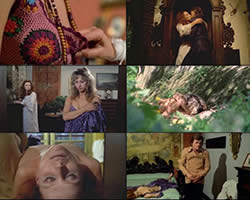 After renting a mysterious old villa, a professor finds an audio tape made by the previous occupant, Azzura. It details her debauched lifestyle and the events leading to her murder and uncontrollable mayhem in the garden. As the story unfolds (visualized through the taped discourse), the audience learns that Azzura lives with her drunken husband but is more attracted to her brother Manfredi. She is constantly flirting with him, giving mixed signals [taking him to bed and then slapping him around], but everything escalates to hyper-violence when Viola enters their life.
   This is a showcase performance for Erika Blanc during her most exquisite period (also see OBLIGATORY PINK SHADE OF SKIN, NIGHT EVELYNE CAME OUT OF THE GRAVE and DEVIL WALKS AT MIDNIGHT). She has starred in over 105 films since 1964, using numerous pseudonyms (including Erica Bianchi, Arika Blanck, Erika Blank, Diana Sullivan, and Enrica Maria Colmbatto [her real name]. She is still active as an actress today.
   This film and the subsequent, MY WIFE HAS A BODY MADE FOR LOVE, were the final projects for Peter Lee Lawrence. The young actor who had made a name for himself in 20+ Spaghetti Westerns (including FURY OF JOHNNY KID) died from cancer in April 1974 at age 30.
   Filmmaker Sauro Scavolini was essentially a scriptwriter, penning 50 movies from YOUR VICE IS A LOCKED ROOM AND ONLY I HAVE THE KEY to ANNA: THE PLEASURE, THE PAIN, from FISHMEN AND THEIR QUEEN to CASE OF THE SCORPION'S TAIL. He was the brother of Romano Scavolini, a cult director behind many genre classics (including NIGHTMARE, SAVAGE HUNT, SPIRITS OF DEATH). Officially, Romano is credited as cinematographer for this film but it is widely presumed that he was - at the very least - Sauro's assistant in the director's seat.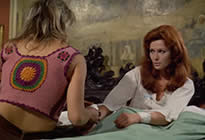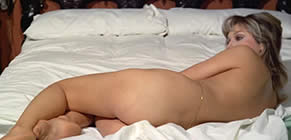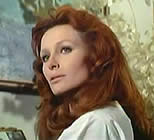 An Italian film with English subtitles; widescreen format, uncut version (86 minutes),
DVD encoded for ALL REGION NTSC; extras include original trailers.