Rape Victims Take the Law into their Own Hands!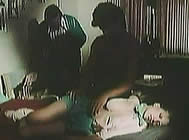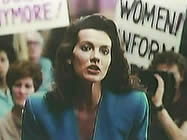 This is the fully uncut International print, running 94 minutes.
It contains some German language scenes which are included with English subtitles.

original American title: W.A.R.
also known as: DEATH BLOW and CRY FOR JUSTICE and LETHAL VICTIMS
director: Raphael Nussbaum
starring: Frank Stallone · Lisa London · Marcia Karr · Donna Denton · Martin Landau · Beverly Hart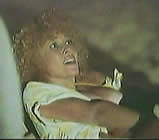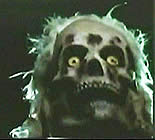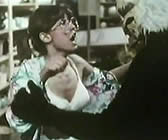 This American/German co-production - helmed by German director Raphael Nussbaum - is a notoriously sleazier version of THE RAPE SQUAD (which was unleashed on American Drive-ins 15 years prior). While the plot is similar [rape victims taking law into their own hands] the execution is broader with more emphasis on the 'injustice of it all.' For this one, a young prosecutor named Judy London becomes a rape victim herself while representing an unfortunate young woman who had been attacked by two spoiled rich kids. However, those two boys aren't the only rapists in this film. As it turns out, most every male in the movie has sexual assault on his mind, including a vicious thug in a Halloween mask. Judy learns that the law doesn't necessarily protect the innocent, so she joins a victims support group to demand justice. After their protests fall on deaf ears, they decide to retaliate by tracking down the attackers and marking them [on the butt] with a branding iron that says RAPE! (see image below, left).
In a 1992 interview (The Tonight Show), Martin Landau said this film was his most embarrassing moment as an actor. Apparently, he forgot about his role in The Harlem Globetrotters on Gilligan's Island (1981) or the time he played an Apache Indian on TV's General Electric Theater (1959). But his complaint is well-founded given the politically incorrect texture of this movie.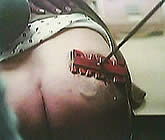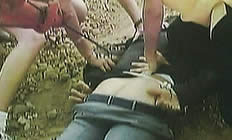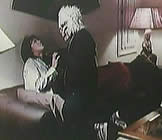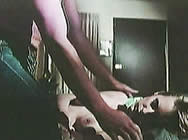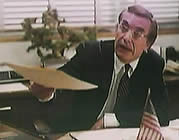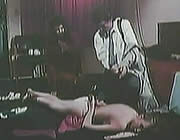 An American/German co-production; fullscreen format, uncut (94 minutes),
DVD encoded for ALL REGION NTSC WORLD FORMAT; extras include selected trailers.