Incredibly Strange, Weird-Ass Chop Sockey!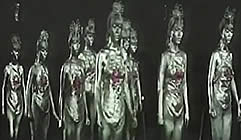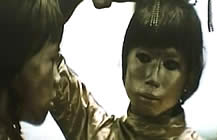 Original Taiwanese/Chinese Title: SHAO LIN SHI BA PA TUNG NU
[Unexpected Trouble in Shaolin]

director: Chian Lai-Ya
starring: Lung Chun-Erh · Chin Hai Chen · Kang Chin · Chun Chou · Ying Lee · Yueh Hua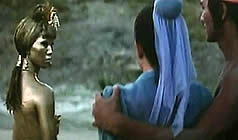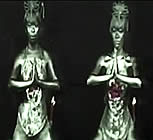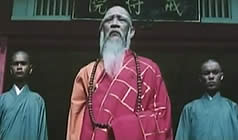 Here's a weird-ass chop-sockey actioner where nothing is as it seems. A woman pretends to be blind while other people pretend to be mute and at least two women pretend to be retarded. Much of the male cast dresses like women. One guy fights himself while others fight giant roses. Nobody seems to keep the same name throughout the length of the film and - often - there are characters with the same name. In a climatic battle, the Bronze Girls climb on each others shoulders - five or six high [see right picture below] - while attacking a group of normal-height challengers. To what advantage? How can this possibly help?
The film opens with the Bronze Girls prancing around a giant bell (sometimes taking a moment to body slam into the bell) as they entertain their Shaolin master, an evil monk who has taken over the temple. Seemingly, this monk has broken with Shaolin tradition, allowing females to learn martial arts... Not because he's a feminist, but rather because he believes females can be more easily manipulated into doing his bidding. At any rate, his temple is now at risk from a series of monk murders. He then realizes that one of his Bronze Girls has disappeared with the sacred documents describing the secrets of Shaolin kung fu. He dispatches the Bronze army to get to the bottom of things.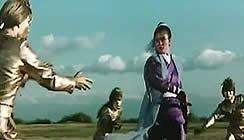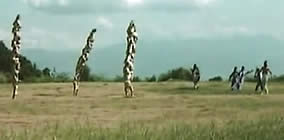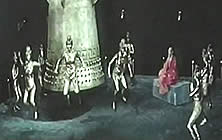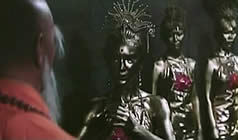 A Taiwanese Chinese film in English language; fullscreen format,
uncut 89 minutes; DVD encoded for ALL REGION NTSC WORLD FORMAT.
Extras include selected trailers