The Original 1968 Giant Monster War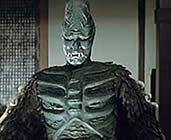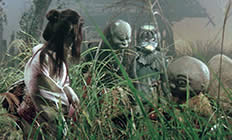 Original Japanese Title: YOKI DAISENSO [Big Ghost War]
also known as SPOOK WARFARE and ONE HUNDRED MONSTERS PART 2

director: Yoshiyuki Kuroda
starring: Yoshihiko Aoyama · Akane Kawasaki · Osamu Okawa · Tomoo Uchida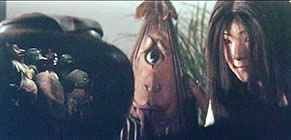 One day the benevolent ruler of Izu is fishing when the Babylonian hell-god, Daimon, flies in and possesses him. Two 'good' lake ghosts, Kappa and Oil-Licker, try to stop the evil Daimon but they are soundly defeated. Aided by a young soldier, they recruit an army of monsters from all over the countryside to join in battle against Daimon. Eventually the are victorious.
After the success of their first film, ONE HUNDRED MONSTERS, Daiei continued to compete head-to-head with Toho Studios in the kaiju eiga [giant monster] market. Since they didn't have a stable of rubber monsters (like the GODZILLA franchise), Daniei Studios continued to use special effects wizard Yoshiyuki Kuroda and the creatures he developed for the previous project. Popular goblins Umbrella Man, Faceless and Long-Neck are all back for another go-around, joined by a platoon of newly designed monsters. And it is no accident that evil Daimon closely resembles the stone monster MAJIN since Kuroda was the special effects director for that series.
Fifty years later, cult director Takashi Miike would remake this film as GREAT YOKAI WAR.