Michiko Nishiwaki in Brutal CAT III Actioner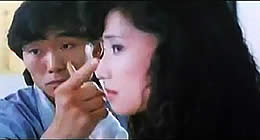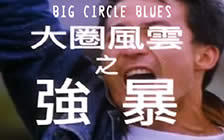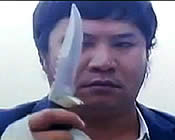 original Hong Kong/Chinese title HUO BAO DA QUAN ZI [Foot Stepped On the Sky]
also known as QIANG BAO [Strong Payoff] [or Strong Treasure]
director: Cheng Chow
starring: Michiko Nishiwaki · Mark Cheng · Wu Ma · Hsiao Yu Lung · Ng Yee San (Athena Wu)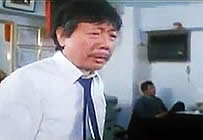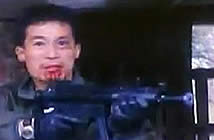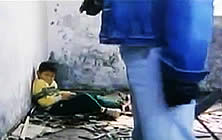 Drawing from a story uncomfortably close to Mario Imperoli's LIKE RABID DOGS and Umberto Lenzi's MILAN HATES CRIME..., this one takes the frenzied criminal motif and cranks it up a notch. Here is a gang of vicious robbers from mainland China who raid Hong Kong for a few jobs before fleeing to Taiwan. Within the film's first couple minutes, these monstrous villains even shoot a child in cold blood during a heist [see pic above right]. Female supercop Show Yun (martial arts queen Michiko Nishiwaki) reluctantly teams up with Taiwanese police investigator Wai (Mark Cheng) to stop the gang's reign of terror.

This brutal CAT III actioner is directed by sleaze maestro Cheng Chow. He would only make a handful of movies between 1991, starting with Yukari Oshima's DEVIL CAT, and ending with HORRIBLE HIGH HEELS in 1997). He is probably best known for Ellen Chan's FATAL LOVE, SUPER COPS, THE CASE OF THE SPIRIT OF BANANA.
Michiko Nishiwaki is an actress, stunt woman and Japan's first Woman's Bodybuilding and Power lifting Champion. Before breaking into movies, she operated two successful gyms in Japan and was the darling of television variety shows. Michiko relocated to Hong Kong in the late '80s and became active in the fighting Diva genre, starring in such films as ANGEL TERMINATORS and AVENGING QUARTET. She is best known to cult fans for PASSIONATE KILLING IN A DREAM and FATAL SEDUCTION, her final film before moving to the States in 1994. Today, she is married with one child and still living in the USA. Miss Nishiwaki remains active with stuntwork (Mission Impossible films, Kill Bill and as Lucy Liu's double for the Charlie Angels franchise). Most recently, she was the fight choreographer for HBO's True Detective.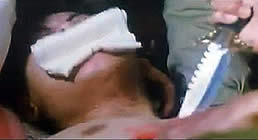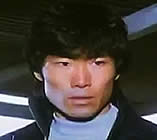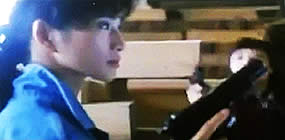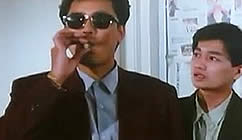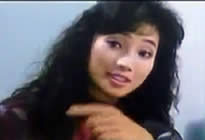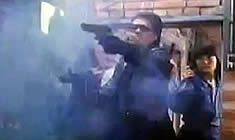 A Hong Kong film with Chinese and English subtitles [see below]; widescreen uncut (89 min.) encoded for ALL REGIONS, playable on any American DVD machine;
extras include selected theatrical trailers

  

Excessive Violence/Adult Material/Sexual Brutality: Viewer discretion is advised.