British Starlet Kelly Brook in an Indonesian Horror Movie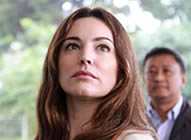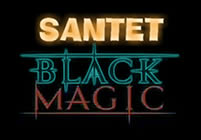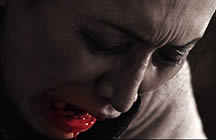 Original Indonesian/Filipino Title: ORIGINS OF SANTET

director: Helfi Kardit
starring: Kelly Brook · Marcelino Lefrandt · Tien Kadaryono · Jazz Ocampo · Bali Nadeya Curtain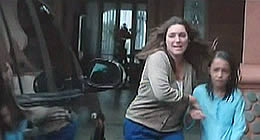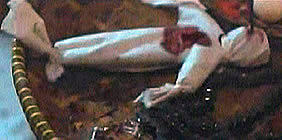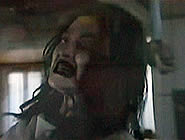 Laura is married to Rendy. They have two children, Aliyah (played by popular Filipino singer Jazz Ocampo) and Kelly. The film opens as the family has moved to Indonesia from England following the suicide death of Rendy's father. They soon discover all is not well with mom either. It becomes obvious that she is going insane or - perhaps - she's the victim of a devil's curse (as manifested by vomiting maggots and glass shards). Rendy suggests that Laura take the kids back to the UK but... too late. Everyone is soon victim to deadly Santet black magic, seemingly caused by a dark sexual indiscretion.
Recently, due mostly to the work of the Mo Brothers (MACABRE and THE KILLERS) and strong films like BIRTH OF THE VAMPIRE, Indonesian horror has developed a growing cult foundation. Industry director Helfi Kardit purposely deviated from his 'traditional' style to deliver this contemporary Black Magic tale. The result is a solid horror film, without the usual detour into forced comedy [a trait so often found in Indonesian cinema of the past]. For this project, Mr Kardit employs the talents of British actress Kelly Brook.
For the past decade, Kelly Brook has consistently been voted as one of England's sexiest women. She was ranked #1 in FHM's 100 Sexiest Women in the World in 2005 and is in their Top 10 still today. Kelly has made very few films although she is well known for her revealing cameo in Piranha 3D (2010). Her reputation comes mostly from television work, Lemon La Vida Loca (British 2012-13) and One Big Happy (USA 2015) as well as her extensive advertising campaign for Lee Jeans. However, despite her association with beauty and sex [voted #6 in Daily Star  readers' poll "Best Breasts in Britain"], she plays her role here with an unexpected reserve.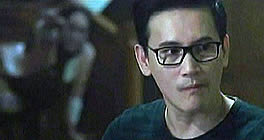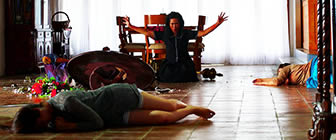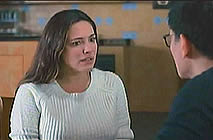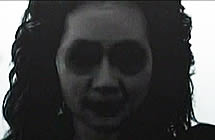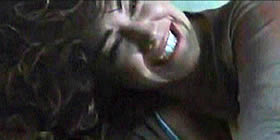 An Indonesian/Filipino film with English language and some English subtitles; widescreen format (16:9),
fully uncut (87 min.), DVD encoded for ALL REGION NTSC, playable on any American machine.
Extras include original theatrical trailer.