English Language and Spanish Language with English Subtitles
Two Complete Versions on One Extended Disc!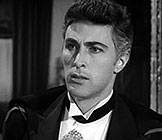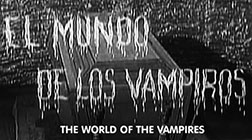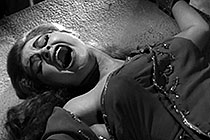 Original Mexican/Spanish title EL MUNDO DE LOS VAMPIROS [The World of the Vampires]

director: Alfonso Corona Blake
starring: Guillermo Murray · Mauricio Garces · Erna Martha Bauman · Silvia Fournier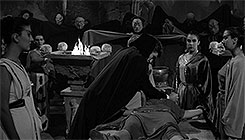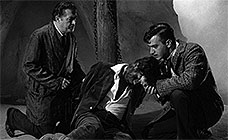 A vampire uses two sisters to seek revenge against the last surviving member of a family that persecuted the undead in Europe. This classic Mexican motion picture begins as Count Subitai rises from his coffin and descends into his castle. There, inside the catacombs, he maintains control over a collection of bat- humanoids and numerous vampire brides through certain musical chords played on his massive bone organ (above pic center). A vampire Count using music to control his minions?! Obviously, this is no routine Gothic vampire movie. In fact, music plays a very big part here. So don't expect the usual genre clichés. Not only is music used by the Count to keep his slaves in line, but it's also a new - and effective - way to kill vampires!
However, despite the diversions, director Alfonso Corona Blake remains faithful to the Gothic style and foreboding atmosphere. The film is stuffed with fog-enshrouded cemeteries, clasping thunderstorms, hunchbacked servants, and beautiful female vampires. Instead of Count Dracula, there's Count Subotai. He's dedicated to wiping out the entire human race through his legions of walking dead. But first, he must deal with a personal vendetta: to eliminate his arch-enemy, the descendants of the Coleman family.
Filmmaker Alfonso Corina Blake would continue his brush with the vampire genre a year later with SANTO AND THE VAMPIRE WOMEN. The character Count Subotai was the first major role for Guillermo Murray after seven years of television work. He would become one of Mexico's top actors (starring in over 100 films) but genre fans know him best for PLANET OF THE FEMALE INVADERS. He would never again play a vampire. Originally from Argentina, Mr Murry - now in his early 90s - is still acting in Mexican television.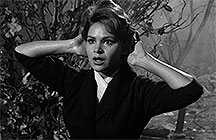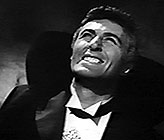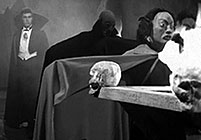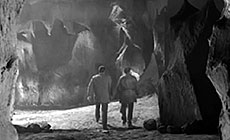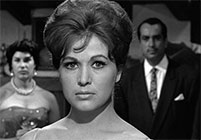 A Mexican film in Spanish language with English subtitles or English language, both versions are fullscreen, complete and uncut (170 minutes total) for NTSC ALL REGIONS,
playable on any American DVD machine.

   

Adult themes/Violence
recommended for Mature Audiences