Contains Disturbing Scenes of Sex and Violence
The film, including images and description on this page...
for ADULTS ONLY
EXTREMELY RARE, FULLY UNCUT GERMAN VERSION AT 98 MINUTES!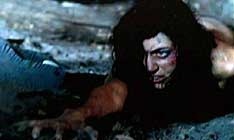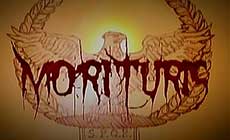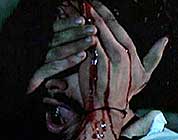 original Italian titleMORITURIS [Latin "Death" | plural form of Morituro]

director: Raffaele Picchio
starring: Valentina D'Andrea · Desiree Giorgetti · Andrea De Bruyn · Francesco Malcom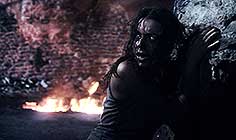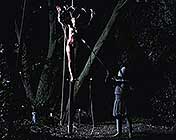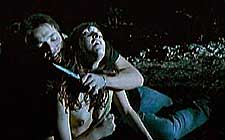 The film opens with three men and two Romanian women traveling by car through a remote Italian countryside. [The relationship between these people is uncertain; it's possible the girls are hitchhikers offered a ride or - as some dialogue seems to indicate - distant friends of the family.] After a whimsical discussion about metal music, they all decide to attend a rumored midnight rave in a nearby forest. But the rave was merely a ruse to put the females in a sexually vulnerable position. The plot turns shockingly vile as the three men brutally attack and rape the young women. The abused victims attempt escape, but - instead - they accidentally unleash a pack of bloodthirsty zombie gladiators.
"Imagine LAST HOUSE ON THE LEFT with zombies," wrote critic Chris Alexander. But that doesn't really come close to describing the incredibly vicious film. This return to "old school Italian Exploitation" is actually a further step into Extreme Horror (MELANCHOLY OF THE ANGELS, SERBIAN FILM, TRAUMA, GREEN ELEPHANT, SUPER BONAERENSES, et al). In fact, this film is so offensive that the only way it got released in Italy was in an edited 68 minute version! Elsewhere, it runs 88 minutes. But be aware: Here is the fully uncut, extremely rare German version at 98 minutes! It's NOT a fun romp. It is purposely rough and nasty. For acquired tastes only.
This is the debut project for director Raffaele Picchio. He has since worked on two documentaries, Omega Rising: Remembering Joe D'Amato and Aenigma: Lucio Fulci and the '80s. The script was co-written by producer Gianluigi Perrone (of EVA BRAUN notority) based on true events known as the 1975 Circeo Massacre in which three young men raped and tortured a 19-year-old woman and a 17-year-old girl for two days in the woods. Special effects were handled by Sergio Stivaletti, perhaps Europe's most acclaimed FX expert (known for his work in SPECTERS, MASK OF THE DEMON, LAST HOUSE IN THE WOODS, THREE FACES OF TERROR, IN THE MARKET, WAX MASK, SYMPHONY IN BLOOD RED, etc).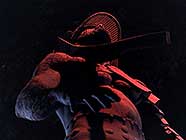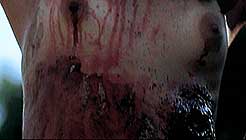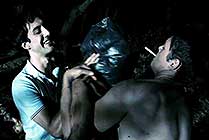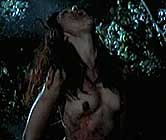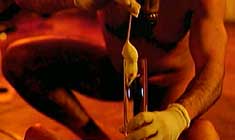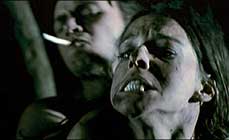 An Italian film in German with English subtitles; widescreen uncut (98 min.);
for ALL REGIONS, playable on any American DVD machine.
Extras include original theatrical trailer.


      

Graphic Violence/Gore/Male and Female Nudity/Gore/
Rape/Drugs/Torture/Excessive Sexual Brutality
For Adult Audiences Only