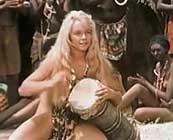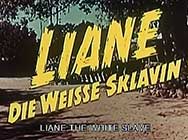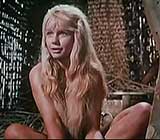 original German title LIANE: DIE WEISSE SKLAVIN [Liane: The White Slave]
DOUBLE FEATURE
Two Different Versions on One Extended Disc
FILM #1: LIANE THE WHITE SLAVE (1957)
Fully Uncut German Version with English Subtitles (77 minutes)
FILM #2: NATURE GIRL AND THE SLAVER (1957)
English American Version (68 minutes)

director: Hermann Leitner
starring: Marion Michael · Adrian Hoven · Ric Battaglia · Friedrich Joloff · Lei Ilima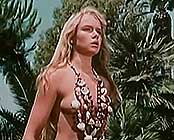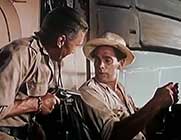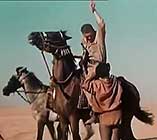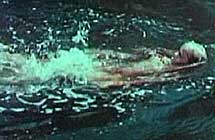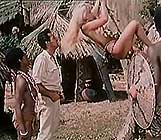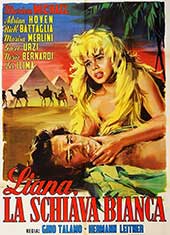 Liane, originally introduced in the wildly successful LIANE JUNGLE GODDESS, is once again played by Euro starlet Marion Michael. She has returned to the African jungles and is living happily with the Worgo tribe. But her family hires an agent to bring the heiress back to Europe. Enroute, she is soon kidnapped by a ring of Middle Eastern slaver traffickers.
Marion Michael, promoted as the 'German Brigitte Bardot,' brought nudity to the screen long before it was acceptable in mainstream cinema. Her Liana films were made three years before Russ Meyer's Immoral Mr Teas and Louis Malle's Les Amants [Lovers], the two films considered groundbreaking for their nudity. Prior to 1960, while the Hollywood Hayes Code of censorship was still in effect, some movies skirted the 'nude issue' under the guise of pseudo-ethnographic pretensions. For example, VIRGIN SACRIFICE flew under the radar in 1958 when (Latino) Linda Cordova was the first actress to show her breasts in a Hollywood financed film.
After the Liana films, Miss Michael [born Marion Ilonka Michaela Delonge in Germany] suffered serious injuries in an auto accident during the shoot of Bomben auf Monte Carlo (Bombs on Monte Carlo). This took her away from show business but she eventually returned to German television. In 1975, an unsuccessful suicide attempt resulted in her right hand becoming paralyzed. She married Freimut Patzner in 1983 and retired happily to a farm in Uckermarck Germany. Marion Michael died from a heart attack, October 2007 at age 66.
Jungle Girl films were a significant sub-genre in 1960/70;s European Cinema, most notably Femi Benussi's TARZANA, Eva Miller's KILMA, Ruggero Deodato's GUNGALA, Catherine Schell's LANA, Edwige Fenech's SAMOA, Mei Chen's LUANA, Celeste Yarnall's EVE and Gillian Hills' GOLDEN GODDESS OF RIO BENE. There is also a hardcore (XXX) jungle girl adventure called BLONDE GODDESS with Susanna Britton.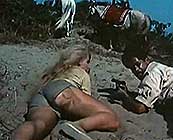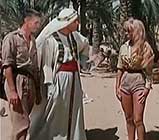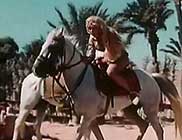 Two different versions of German/Italian production:
Complete German film with English subtitles (77 min) + English version
under the title NATURE GIRL AND THE SLAVER in English language (68 min);
fullscreen formats, extras include theatrical trailer.
DVD encoded for All Region NTSC World Format.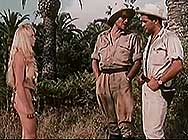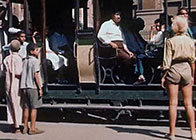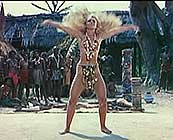 Nudity/Violence/Slave Trafficking/Drugs
for Mature Audiences