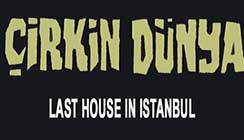 ·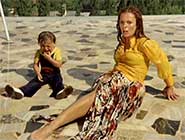 original Turkish title ÇIRKIN DüNA [Ugly World]
original Italian title LA GANG DELL'ARANCIA MECCANICA
[The Clockwork Orange Gang]
original German title MONDO BRUTALE II [Brutal World 2]
directors: Osman Seden [and Rowland Kramer]
starring: Hulya Kocyigit (as Setefania Basile)
Savas Basar (as Gianfranco Fabiani) · Dogan Bavli (as Alfred Sullivan)
with Oktar Durukan · Bulent Kayabas · Günfer Feray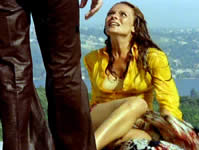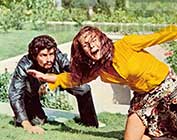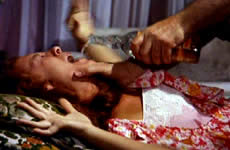 After a brutal rape, a group of thugs - led by Scorpion - take refuge in the home of rich Dr Oliver where they torment him, his wife Selma and their small child. Like numerous other home invasion films, everyone braces for a long weekend of torment and mindless torture. Eventually, come Monday morning, Scorpion and the doctor take a trip to the bank for 'safety money' [this was before the convenience of ATMs] while Selma and the kid are left to the perverse whims of the sadistic gang.
Believed to be a 'lost' film, here is an ultra-rare print of this Turkish LAST HOUSE ON THE LEFT clone. In 1974, it was released Internationally under a variety of different titles (see top of page) due to an unusual distribution arrangement with E. A. Parker's German-based VMP Company (BLACK DEEP THROAT, THRONE OF FIRE, et al) which allowed each country to create its own credit sequence, thus camouflaging the primarily Turkish production.
Wes Craven's Last House on the Left had been released in Germany the previous year as Mondo Brutale: Das Letzte Haus Links [Brutal World: Last House Left] and so - due to that success and obvious similarities - this one became Mondo Brutale 2. Most European prints identify the director as 'Rowland Kramer' but it's really prolific Turkish director Osman Seden. This was one of his 160 films helmed between 1955-1991; his only movie to find an audience outside of Turkey. Mr Seden died from a seizure September 1998 at age 74.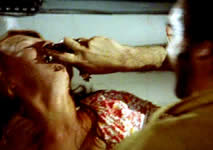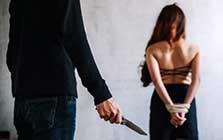 A Turkish film; fullscreen format (1.33:1), totally uncut at 84 minutes, encoded for ALL REGIONS NTSC, playable on any American machine; in Italian language with English subtitles.
Extras include original theatrical trailer.

 

Graphic Violence/Adult Material/Sexual Brutality:
For Mature Audiences