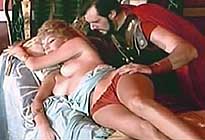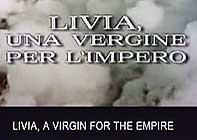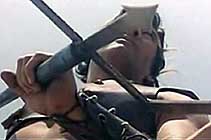 original Italian title LIVIA, UNA VERGINE PER L'IMPERO [Livia: A Virgin for the Empire]
also known as DARIO DI UNA VERGINE ROMANA [Memoirs of a Roman Virgin]

director: Aristide Massaccesi (as Joe D'Amato)
starring: Lucretia Love · Linda Sini · Attilio Dottesio · Edmondo Tieghi · Stefano Spitoni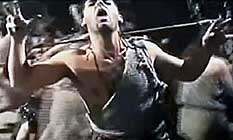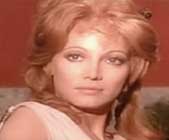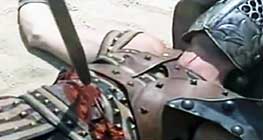 While this is NOT Aristide Massaccesi's first movie (that is officially DEATH SMILES AT MURDER from the previous year), this story of sex and rebellion in ancient Rome is the first time Massaccesi used his now-famous pseudonym Joe D'Amato.
This film opens as an earthquake/volcano destroys the city of Stabbia, killing young Livia's entire family. She is rescued by Lucille Tarius - a brothel mistress from Rome - who escorts Livia back to that city where she soon becomes a sought-after prostitute. Her beauty catches the attention of influential Senator Lucius. He wants Livia to leave her Madame and provide sexual services exclusively for him. She fears retaliation from Lucille and so Senator Lucius immediately arranges the Madame's death. This is merely the first time that Livia uses her sex to achieve a rise to power. But each time, the situation becomes more dangerous.
After years of cinematography work [including the incredible WHAT HAVE YOU DONE TO SOLANGE? and DEAD MEN DON'T MAKE SHADOWS], Aristide Massaccesi was finally given the opportunity to sit in the director's seat (some sources claim that his first film was actually a Spaghetti Western called Bounty Hunter in Trinity which was signed by 'Oskar Faradine' while other claim it was the aforementionedDeath Smiles At Murder). In 1973, he helmed this rarity which began decades of his 'Joe D'Amato' career, numbering more than 180 films [including genre classics like EMANUELLE IN AMERICA, SEXY NIGHTS OF THE LIVING DEAD, PORNO HOLOCAUST, HYENA, ALCOVE, et al] before his death from a heart attack in January 1999 at age 62.
While this movie was being made, both Massacces and Lucretia Love were also working on the big-budget, American-financed ARENA, a female gladiator film with Pam Grier, shot in Italy. He got permission to use the same sets for this project. Ms Love, capitalizing on her popularity from Ruggerio Deodato's ZENABEL, brought a distinctive charisma to this production. She had previously made IN LOVE WITH SEX and BATTLE OF THE AMAZONS followed by KILLER RESERVED NINE SEATS, THE SEXORCIST and PROSTITUZIONE before retiring in 1980. Lucretia Love [born Lucretia Hickerson in Borger Texas] reigned as one of the legendary Euro sirens for two decades. She died after complications with hip surgery in January 2019 at age 77.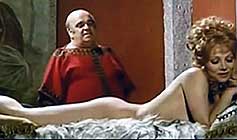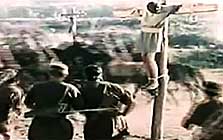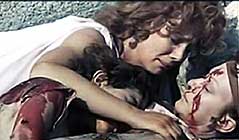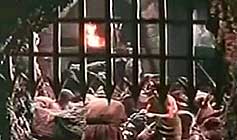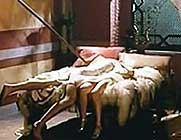 An Italian film with optional ON/OFF English subtitles; widescreen (16:9),
uncut version at 75 minutes, encoded for ALL REGIONS NTSC,
playable on any American machine.
Extras include original theatrical Joe D'Amato trailers.

Strong Sexual Themes/Nudity/Graphic Violence
for Mature Audiences Only