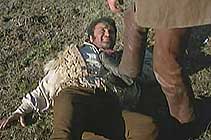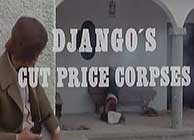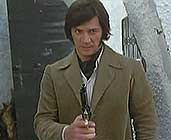 original Italian title I CORPI DI TAGLIO A PREZZO DI DJANGO
[Django's Discounted Price Corpses]
also known as: ANCHE PER DJANGO HANNO UN PREZZO [Even Django Has a Price]
also (edited version) released as PISTOL FOR DJANGO
director: Luigi Batzella (as Paolo Solvay)
starring: Jeff Cameron · John Desmont · Gengher Gatti · Esmeralda Barros · Dominique Badout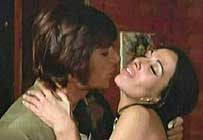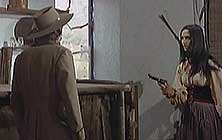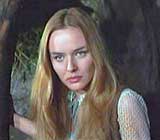 The quirky story borders on unexpected bursts of sexual violence plus rather substantial helpings of sleaze. Django (played by Jeff Cameron, pseudonym for Geoffredo Scarciofolo) is after the notorious bank-robbing Cortez brothers, led by the sexually violent Ramon. However, a Well Fargo detective named Fulton convinces Django to "hold off on a showdown" until they can discover the location of the Cortex gold stash.
Usually Spaghetti Westerns did not contain nude scenes [notable exceptions are STRANGER AND THE GUNFIGHTER, SCALPS, BLACK KILLER, APACHE WOMAN and EL CISCO], but Batzella stuck a few in this one (see below pic, left) despite his producer's complaints. The movie was released uncut for European audiences, but edited for the wide marketplace including the USA (this print, however, is the uncut Euro version).
Director Batzella started his career as a character actor. He has appeared in 30+ films, performing under his Paolo Solvay alias (i.e., playing a police investigator in both NIGHTS OF VIOLENCE and BLOODSUCKER LEADS THE DANCE). As a filmmaker, Luigi Batzella directed a dozen movies. He often used the Solvay pseudonym but sometimes he signed the features as Paul Hamus, Dean Jones or Ivan Kathansky [for his controversial Naziploitation BEAST IN HEAT]. He is probably best known for SLAUGHTER OF THE VAMPIRES and NUDE FOR SATAN. Mr Batzella died from Parkinson's Disease in November 2008 at age 84.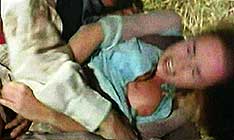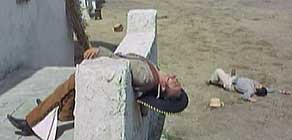 0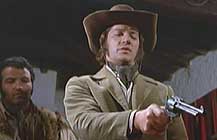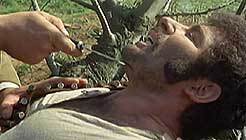 An Italian film; widescreen uncut (85 min.) version in DVD encoded for ALL REGION, playable on any American DVD machine; in English language.
Extras include theatrical trailer.

Violence/Nudity/Sexual Brutality
Viewer discretion is advised.