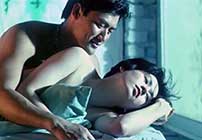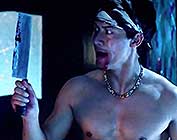 original Hong Kong/Chinese title LANG XIN RU TIE

director: Clarence Yiu-Leung Fok
starring: Carrie Ng · Loletta Lee · Wai Keung Law · Dennis Chan · Git Leng Chan · Money Lo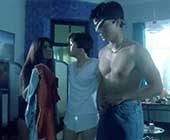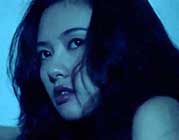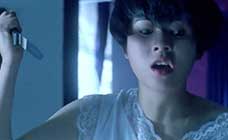 A drug raid nabs Billy Chan and Judy Yu on murder charges after acid-scarred human remains are found stewing in a metal trunk. The bubbling sludge is the only thing left of Lisa, part of a cocaine-addicted lust triangle gone awry. As a result, Billy and Judy wind up in jail. While the police continue to investigate, a Bible study member named Annie acts as a liaison between the imprisoned pair. Annie is unaware that by sharing information with the two accused killers, she is actually helping them corroborate their alibi. The subsequent courtroom dramatics are spiced up with catfights, kinky drug-induced sex and climactic gore. Plus a surprise ending.
Clarence Yiu-Leung Fok's film is based on a true Hong Kong murder, the infamous Patrick Wong case. The movie is immediately reminiscent of Herman Yau's UNTOLD STORY [with Anthony Wong] which had won the Golden Horse 'HK's Academy Award' for Best Picture in 1993. This one would win top honors the following year and actress Carrie Ng walked away as Best Actress. [More conventional pictures returned to win the top category in 1995 with Ann Hui's Summer Snow.] Ms Carrie Ng has appeared in over 100 films since 1982, many of which have become cult favorites (SEX MEDUSA, FATAL SEDUCTION, ANGEL TERMINATORS, and Clarence Fok's NAKED KILLER). She is still active today, starring in ZOMBIOLOGY in 2017.
Co-star Loletta Lee (born Lee Lai Chun in 1966) began acting as a young teenager, playing mostly bit parts in 50+ films. Interestingly, after appearing in this high-profile film - as Annie the Bible Study girl - she made the mammoth decision to start doing nude scenes in CAT III movies. That unconventional choice with THE FRUIT IS RIPE 2 (Crazy Love) pushed her into the spotlight. She followed with GIRLS UNBUTTON and SEX AND ZEN 2, et al.
This was a breakout role for beautiful actress Money Lo. Next, she made DAUGHTER OF DARKNESS and then two legendary Category III films by Billy Tang, BROTHER OF DARKNESS and RED TO KILL. She retired from show business after CASE OF THE FLOATING BODY to marry Hong Kong businessman Suen Ging-On.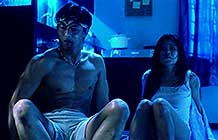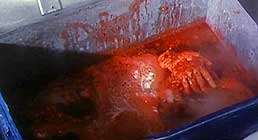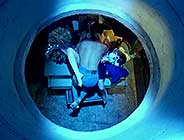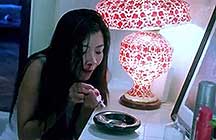 A Hong Kong/Cantonese film with typical burnt Chinese/English subtitles;
widescreen uncut (96 min.) in DVD encoded for ALL REGION,
playable on any American DVD machine.
Extras include trailers.


Graphic Violence/Nudity/Sexual Brutality
Recommended for Adult Audience